Turning into Research Triangle Park, sleek concrete and glass office buildings sprawl along tree-lined roads, until something catches your eye.
Drive Time
From Holly Springs: 25 minutes
From Fuquay-Varina: 35 minutes

Ahead on a slight rise is a squat collection of vibrantly hued metal boxes. The new Boxyard RTP development stands out — and not just for its unusual appearance.
Instead of conventional building materials, the development was constructed from 38 repurposed shipping containers. Located at Highway 54 near T.W. Alexander Drive, Boxyard RTP is also the first restaurant and retail space inside the Park.
"We wanted to create a center of activity for RTP companies and our neighbors in the surrounding area to come together and enjoy local flavors, sounds and artwork," says Morgan Weston, director of marketing and communications at the Research Triangle Foundation, which manages the Park.
The $7-million Boxyard RTP project was conceived as a way to bring more visitors into the Park and to make the workday brighter for the office workers who were already there. It is key to the foundation's efforts to revitalize the aging office park and compete with more urban, walkable work environments.
"The idea of this whole redevelopment, the grand redevelopment of RTP, is to flip the script on the way people view the Park," says Amanda Ronan, director of programs at the foundation. "It maybe didn't have the greatest connotation for some people. It seemed a little closed off. So with guidance from our leadership, we really wanted to change that."
Of the 14 businesses at the yard, many are local restaurants, bars and eateries, including familiar names like Fullsteam Brewery, Bulkogi Korean cuisine and Lawrence Barbecue. The result is a bit like an open-air food hall, where guests can explore all the options and drink and dine in the central courtyard. There's also unique shopping and an escape room.
The common area hosts frequent musical performances and special events, such as Wonderbop (live music, DJing and spoken word) on the first Saturday of the month or LOJO — Log Off , Jam On (collaborative, open jam session) on Fridays from 5 to 8 P.M.
And because the foundation aims to support retail and dining entrepreneurship, Boxyard RTP will also host a revolving set of pop-up vendors. Each business will spend three months in the single-container space and be awarded a $5,000 grant from RTF and NC Idea. The first tenant, clothing retailer Thirteen West, opened in August. Followed by SkyeLight candles and Pop Box Gallery to come.
Amenities for Workers
Boxyard's soft opening last June came at a challenging time, when many RTP companies were still working remotely and staffing challenges caused delayed openings for many of the Boxyard tenants. Still, several RTP businesses saw Boxyard as an incentive to invite employees back to the office.
"One of our tenants, G1 Therapeutics, is offering perks for employees," Ronan says. "If they come into the office, they'll get a voucher to go get a cupcake at Buzzy Bakes. (G1) will have a tab open at Beyu Caffe, so their employees can go over and grab a coffee."
But Why Shipping Containers?
"The idea of this campus really is repurposing something old into something new, and this kind of went along with that," Ronan says.
The RTF team flew to Tulsa, Okla., where developer Casey Stowe had transformed shipping containers into an urban retail district.
"We were wowed by the concept," Weston says. "There is nothing else like it in the Triangle area, and (we) liked the idea of utilizing containers so that small businesses could make a big impression in 320-square-foot spaces – thus our slogan, 'Think Inside the Box.'"
While the original Boxyard concept in Oklahoma is gritty and industrial, the North Carolina version stands out in the pastoral Park environment.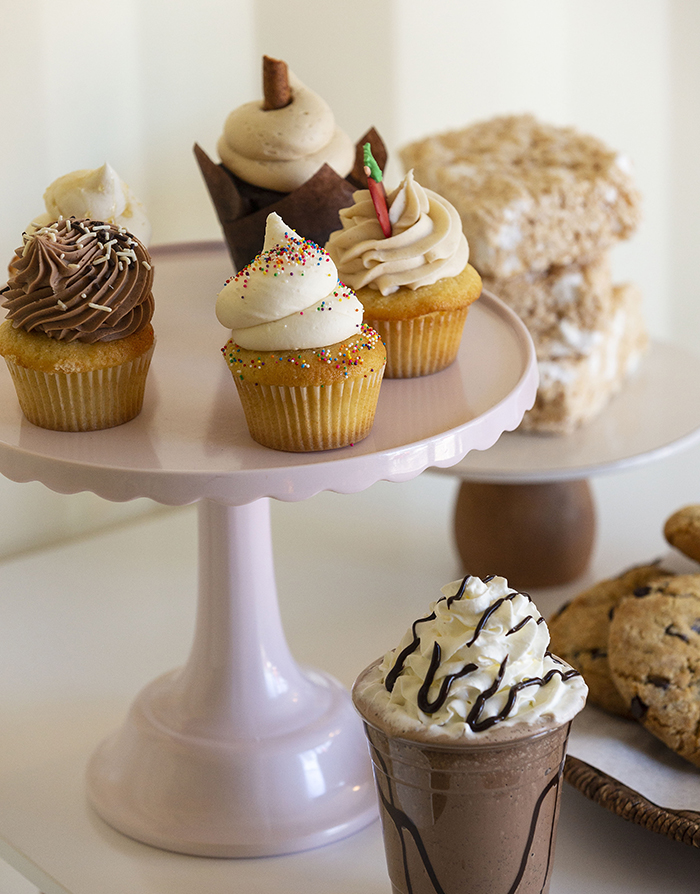 "We definitely saw that and kind of liked the juxtaposition," Ronan says. "When designing this space, we really leaned into the fact that we are in the Research Triangle Park. We are surrounded by nature."
Boxyard's central open-air meeting space was designed with nature in mind and with the idea that it would be a place where office workers would be able to bring their laptops and work outside if the weather permits. One of the more successful recurring programs has been the Thursday lunch concerts, with local singer-songwriters.
"The whole branding and idea behind that event is for people to take their lunch hour and not work at their desk, not sit in isolation," Ronan says.
Central Place to Meet
Along with the programming and events, the uniqueness of the location's design was seen as an attraction, something that would entice people who don't work in the Park to come take a look. It's also a convenient place to meet between Durham and Cary, Weston says.
"Its central location among our outstanding research universities makes it the ideal spot to connect with colleagues and friends who might live in another corner of the Triangle," she says.
"You can meet your friend from Cary or someone who's coming from Chapel Hill, right in the middle, and get a bite to eat, get a drink, bring your dog or your kids," Ronan says.
Boxyard RTP is currently closed Sundays and Mondays. Be sure to check boxyard.rtp.org for special event calendar and individual vendor hours.
Inside the Box: Shop, Unwind and Dine at Boxyard RTP
Buzzy Bakes
Cupcakes, pastries and locally churned ice cream
Beyu Caffe
Delicious coffee and grab-and-go breakfast and lunch
Bulkogi
Korean BBQ and fusion cuisine
Carrburritos
Mexican taqueria
Fullsteam RTP
A Durham original, brewing "plow-to-pint" beers that highlight the flavors of N.C. farms
Game On Escapes & More
Escape challenges and VR experiences
Lagoon Bar
Leisure tiki bar
Lawrence Barbecue
Brisket, ribs, oysters and more smoked on-site. Get it before the daily sell out!
Meat & Graze
Gourmet cheese & charcuterie
Medicine Mama's Farmacy
CBD products sourced sustainably from N.C. farmers
RTP Uncorked
A destination for wine enthusiasts to unwind and relax
SkyeLight
Handmade candles and wax melts (Open through mid-February)
Trellis Beauty
Clean beauty shop with the country's first Beauty Steam Bar
Wonderpuff
Artisanal and organic cotton candy
COMING SOON
Be Like Missy
Handmade jewelry and luxe leather goods
(Arriving soon)
Pop Box Gallery
Rotating exhibitions featuring visual art by local and regional contemporary artists
(Arriving mid-2022)