Picture this — a peaceful night, sleeping under the stars, surrounded by natural wonders and the comfort of your own bed, waking up to birdsong, hiking adventures and welcome solitude. Sound appealing?
RVing By The Numbers
22% of owners are between ages 18 and 34
20 days – median annual usage for RV owners
11.2 million households own an RV
72 million Americans plan on taking an RV trip in 2022. Up from 61 million the previous year.
62% increase in RV owners from 2001 to 2021
57,971 RVs produced in October 2021, the best month on record. Previous high was 48,926 in October 2017.
53% of travelers bring their pets with them.
Source: rvia.org

More than 11 million people in the U.S. agree with you, and that number is climbing quickly.
Eleven million American households own recreational vehicles, however less than two years ago that number was only 8 million.
Interest in RV travel and ownership has surged, in large part due to the coronavirus pandemic health and safety concerns.
Dave Hofert, owner of D & H RV & Marine dealership in Apex, has felt that growth in his professional and personal life.
"The RV industry added 3 million units to the registry in 18 months," Hofert says. "The whole economy has changed. I don't go to my office anymore. I can work from anywhere. I might as well work from the beach.
"RV travel is safe travel. I don't have to worry about (businesses) being closed. I don't have to wear a mask in my RV," he says.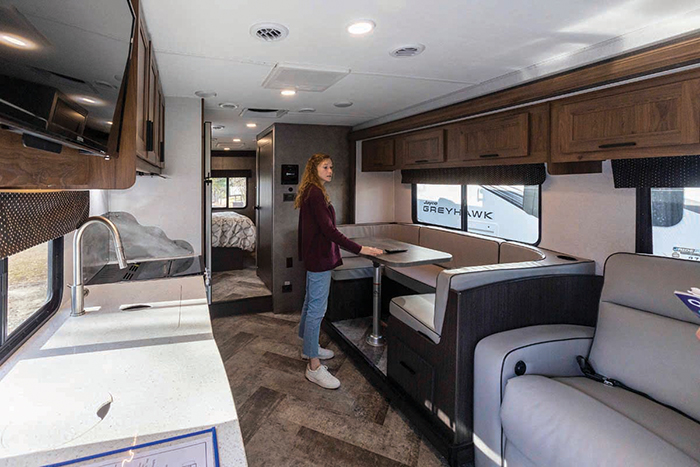 RV destinations are largely outdoors, away from crowded urban areas. Another upside — pets are welcome.
"An RV is pet-friendly travel, and that's a huge thing for people." No more overnight boarding and Fido missing all the fun.
"It's true travel independence in your own home," Hofert says.
Hofert and his wife bought their first camper to live in while building a house in Wake County. When the house was finished, they tried renting out the camper.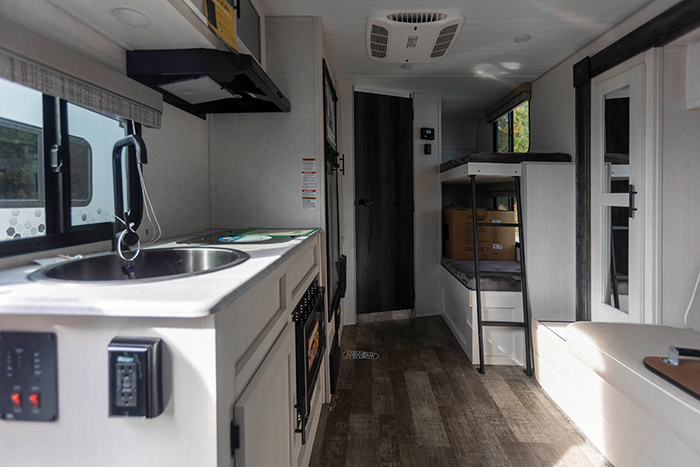 "It rented every weekend, and we decided we were on to something," Hofert says.
Now, Hofert's dealership on Hwy 64 sells new and preowned RVs in a variety of classes, recently added an inventory of boats and was named a nuCamp Top 5 Dealer in 2020 and 2021. (nuCamp is a popular brand of teardrop and truck campers.)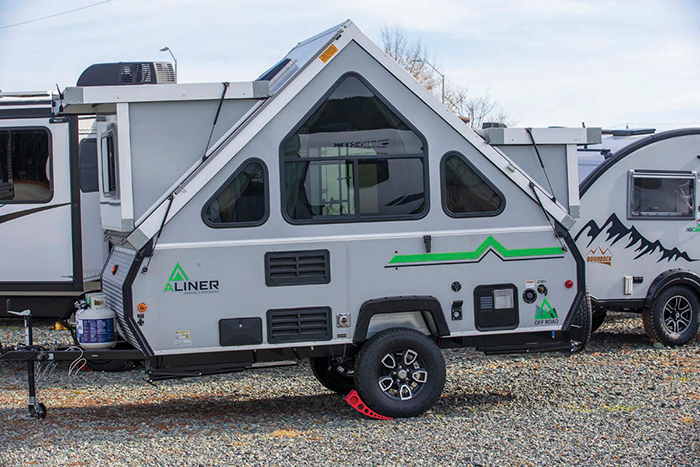 Surging RV ownership has ushered in challenges as well. Many manufacturers are struggling to meet demand, and service departments are often backed up, waiting on parts. Popular campsites often book up months in advance.
"The irony is that we were at Disney World (staying at Disney's RV campground, Fort Wilderness). We usually go the week after Thanksgiving and it's empty because people are at work or at school. It was slammed," Hofert says.
Fuquay-Varina resident Nancy Kimsey is well underway with planning a cross-country RV trip for September.
Meditations on the Go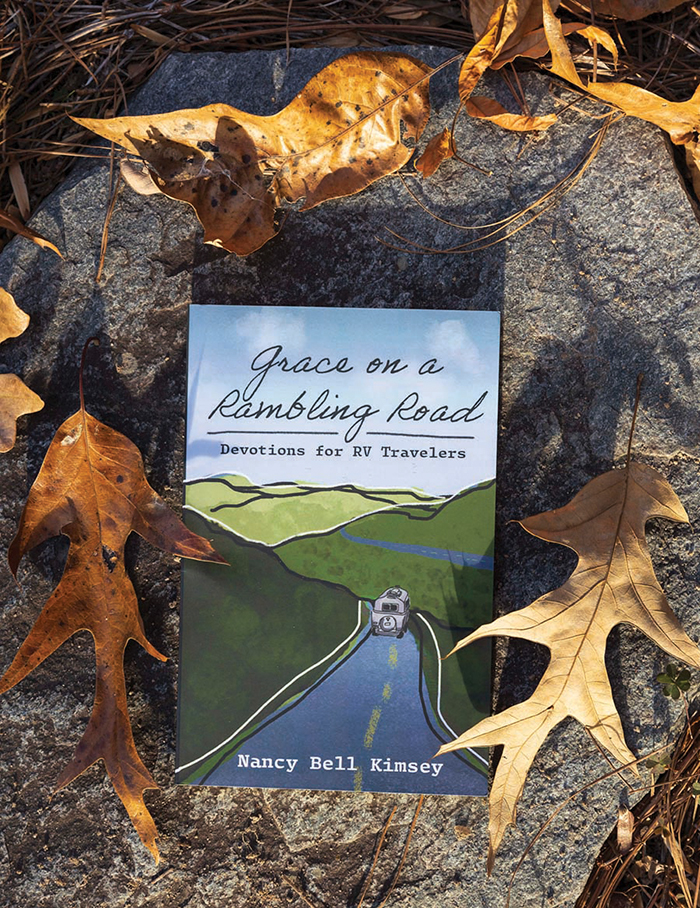 Before she was an RV camper, Nancy Kimsey was an English teacher, working in the Wake County Public School System for 29 years. As she learned more and more about RV lifestyles, Kimsey noticed an opportunity.
"Since there's all these RVers out there, why not have a collection of devotional meditations that would be aimed directly toward campers," Kimsey says.
"There are one million full-time RV people. They aren't going to be able to go to the same church every Sunday. It occurred to me that there would be an audience that would appreciate having something that they could read on the go."
Kimsey penned Grace on a Rambling Road: Devotions for RV Travelers, a collection of 60 devotional meditations that link Scriptures and prayers with the camping experience, and six months later followed with the sequel, Joy by a Roaring Campfire: Devotions for Campers.
"I'm hoping that the book will be an encouragement and a challenge to people, just that you can connect everyday life to God's working in your life."

"I've already got this very complicated spreadsheet about how I have to reserve six months out in order to get into this campground in Zion National Park, because the sites are available on a rolling basis," Kimsey says.
"If it's something really specific, that's a very popular destination, you have to find out when they open the booking window and be ready to jump on it."
Kimsey's spreadsheet also includes Bryce Canyon National Park and Arches National Park — highly sought after bucket-list destinations.
A life-long tent and family camper, Kimsey and her husband never RV camped until — you guessed it — the pandemic hit in 2020.
"We wanted to get out and have an opportunity to go camping where we could have a little kitchen," she says. "I'm in retirement age, so I'm not going to sleep on the ground anymore. During the pandemic, we didn't really want to stay in hotels, so we started looking at it more seriously."
When Kimsey and her husband discovered a brand of RVs that fit their needs, they drove to Tennessee to see them in person.
"We immediately decided that's what we wanted, but had to wait four months for it to be built," she says. "Now people are waiting 10 months."
Variations in RV size, shape, price point and features are plentiful.
Luxury models can sell for more than $100,000 with leather recliners, induction cooktops, solid wood cabinets and even bunk beds.
For Kimsey, solar panels and petite dimensions were must-have specs.
"Because it's a little smaller, you can get into some of the national parks campgrounds. There are a lot of campgrounds that have only a few sites for really large RVs. We like that flexibility."
Which Type of RV Owner are You?
Happy camper
Casual camper
Adventure seeker
Avid RVer
Escapist
Full timer
Family camper
Seven types identified by the RV Industry Association. Source: rvia.org

Solar panels allow for boon-docking, or camping without connection to water, sewer or electricity, which expands campsite options to include remote destinations off the grid.
"We are really enjoying the flexibility of it. Just being able to go hiking and birdwatching early in the morning. You are already at your destination," Kimsey says.
"RVing does give the freedom to make last-minute travel decisions with whatever you are interested in doing. Whether it's fishing at the beach or staying in your grown kids' driveway and having your own coffee pot, those are all pieces to the puzzle," Hofert says.
Where to Camp
Consider these unique N.C. RV destinations
Campfire Lodgings
Asheville
Scenic mountain-top camping with views of the Blue Ridge Mountains.
Camp Hatteras RV Campground
Rodanthe
Located on Hatteras Island in the N.C. Outer Banks, Camp Hatteras is sandwiched between the Pamlico Sound and the Atlantic Ocean, providing ocean- and sound- front campsites.
4 Paws Kingdom Campground & Dog Retreat
Rutherfordton
In the foothills of the Blue Ridge mountains, an ideal getaway for pets and their humans with off-leash dog parks, an agility course and a fenced swimming pond.