I've lived in Fuquay-Varina for over 15 years, but somehow every summer takes me by surprise and turns my cactus crack into the Everglades. Between the months of June and August, there is literally nothing to do but sweat your way to the mailbox or be eaten alive by evil sky raisins that drain more blood than Dexter. It might be an uncomfortable season for all of Wake County, but Southern Wake is significantly worse because I say it is, and you should believe everything you read in print. I care about you fools, and I'm here to help you conquer the Devil's season and have the best swamp goblin experience possible.
There's New Cold Stuff in Town.
Since I last wrote about the dregs of summer in 2019, there's lots of new frosty fun that we can all take advantage of. A few months ago, the Town of Fuquay-Varina scored a Pelican's SnoBalls, with delicious, icy balls big enough to give you some temporary relief on a hot day.
In the spring, Fiiz Drinks opened in Fuquay near where the old Blockbuster used to be (rest in peace). This place offers blessedly cold drinks reminiscent of what middle schoolers called "suicides" in the '90s. They're mixing sodas with all kinds of flavors to create godlike refreshments with names like Cocalada, Threat Level Midnight, and Fat Guy in a Little Coke (that's the real name, look it up).
The Scoop at Willow Oak Farms, pictured above, opened back in 2021, so while it's not exactly "new," there's probably some Chads in Holly Springs who've never heard of it. This family-owned ice cream shop sits on a working farm in Northern Harnett County, and in addition to offering ice cream and milkshakes, they have a collection of fluffy farm friends on-site that you can feed while they judge you for that third scoop.
Last but not least, the brand spankin' new Herbert Akins Middle School and the new(ish) Fuquay-Varina High School are always there to turn you into a human popsicle, like any Wake County school worth their salt.
Go to a Farmers Market Before the Sun Kills Us All.
Fruits and vegetables seem to thrive whenever humans are uncomfortable, so make the most of a Southern Wake summer by cashing in on the fruits of other people's labors (the veggie patch in your 0.25-acre backyard doesn't count). The Fuquay-Varina Growers Market is open starting at 8 a.m. from June to September, and I recommend that you get there as early as possible for two reasons: 1) You might live to see another day before the humidity sets in, and 2) you don't have to fight Janet over the freshest veggies. Holly Springs residents can head to the Holly Springs Farmers Market starting at 8 a.m., just after their morning run or CrossFit class.
Biking.
Early summer mornings are the thing of dreams for local bikers, who stretch out in a majestic V formation across a two-lane road just as you leave for work. If you can't beat 'em, join 'em. Holly Springs residents can check out Team CBC, a local registered USA Cycling club. Apex residents can join the Capital Cycling Club, promoting competitive cycling in the Apex area. Fuquay-Varina residents can ignore this entirely and send a strongly worded letter to the editor (sorry, Emily).
Take a Page out of Cary's Book and Shop at a "Makers Market."
While the words "makers market" might send a shiver down your rural spine, downtown Holly Springs is fully committed to becoming Cary 2.0, so put your big-girl panties on. Scheduled for the last Friday of each month from 6-9 p.m., "Love your Local" events at The Block on Main will run through November, featuring local vendors, entertainment, and more. This is a chance for local businesses to show off their wares, and that's never a bad thing. Plus it's in the evening, which means the weather will be cooler — or you'll be struck by heat lightning while buying artisanal cheese. Either way, it's going to be a good time. Fuquay has its own makers market next to The Mill on Depot Street, thanks to local resident Taylor McGee. Learn more about McGee and the upcoming market on June 17.
Discover Fancy Fuquay.
Yeah, you read that right. Watch out, Holly Springs, because Fuquay-Varina recently got a TJ Maxx AND a pOpshelf, right next door to each other, and we don't know how to act. Not only that, but downtown Fuquay now has a big fancy brick building with a Barre studio, apartments, and El Cantarito Bar & Grill with fancy vacation cocktails. Did I mention we're also getting like 10 more car washes because we just can't get enough? Be jealous.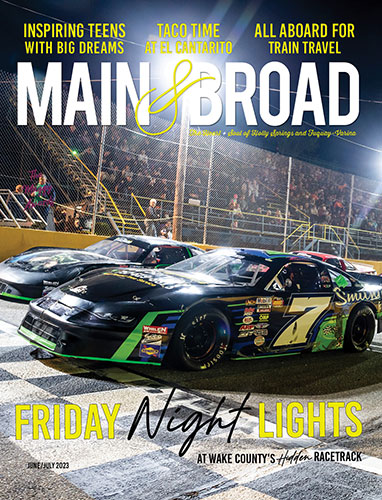 Making the Most of a Southern Wake Summer