In 1962, about 3,400 residents lived in Fuquay-Varina. Raleigh had eight banks, six hotels, and 22,500 homes, according to Hills 1960 Raleigh City Directory. And Glenn and Marvin Simpkins built the Wake County Speedway on their family-owned land in south Raleigh.
Sixty-one years later, the Speedway still operates on the original plot of land off Highway 401, just 7 miles north of Fuquay's Hilltop Needmore Town Park & Preserve.
Despite this lengthy history, the Speedway remains relatively unknown among Wake County residents.
"People live close by, and don't know we exist," says Charlie Hansen, track owner and promoter.
The track itself is hidden from major roadways, with an easy-to-miss entrance off of Simpkins Road and a small footprint — only a quarter-mile loop. But the Wake County Speedway packs a powerful punch into its humble grounds, with grandstand seating for thousands, parking lots full of tailgaters, and boisterous family fun on Friday nights in the spring and summer.
If You Go:
Small coolers are allowed in the stands, including alcoholic beverages, but glass is not permitted.
Racing is loud. Consider bringing ear protection for the entire family, especially for children.
Concessions options include rotating weekly food trucks and The Raccoon Grill Fair Food and Snacks, serving State Fair favorites like steak & cheese sandwiches, fried Oreos, and corn dogs.
The Family Stands seating area prohibits alcohol, profanity, and smoking — great for families with young children.
"On race nights, it's like the midway at the fair," says Hansen. "There's live music, concessions, fried Oreos, and entertainment for the kids."
Hansen first experienced the Speedway as a racer in the early 1990s, then worked in track operations, eventually becoming owner in 2018.
"For me, it's a complete family affair. My whole family is involved," says Hansen, ticking off his four sons, daughter, wife, and his own father, who all assist in the speedway operations in various capacities, from competitors to concessions.
"My passion is to keep something going that's been going for 61 years. What other Raleigh attractions can claim that?"
Beginning each year in late March, Wake County Speedway hosts short-track races nearly every Friday night. Gates open at 6 p.m., qualifying heats begin around 7:15, and the green flag drops at 8:30. Racing lasts well into the evening hours, showcasing about five divisions of race cars.
Daniel Vuncannon, from Fuquay-Varina, competes in the Late Model division, considered the premier level of local racing, with cars most similar to those driven in NASCAR races.
A WCS competitor for four years, Vuncannon drives race car #50, "a beat-up Chevy Camaro," he laughs. He does all the upfitting work himself.
NASCAR Home Tracks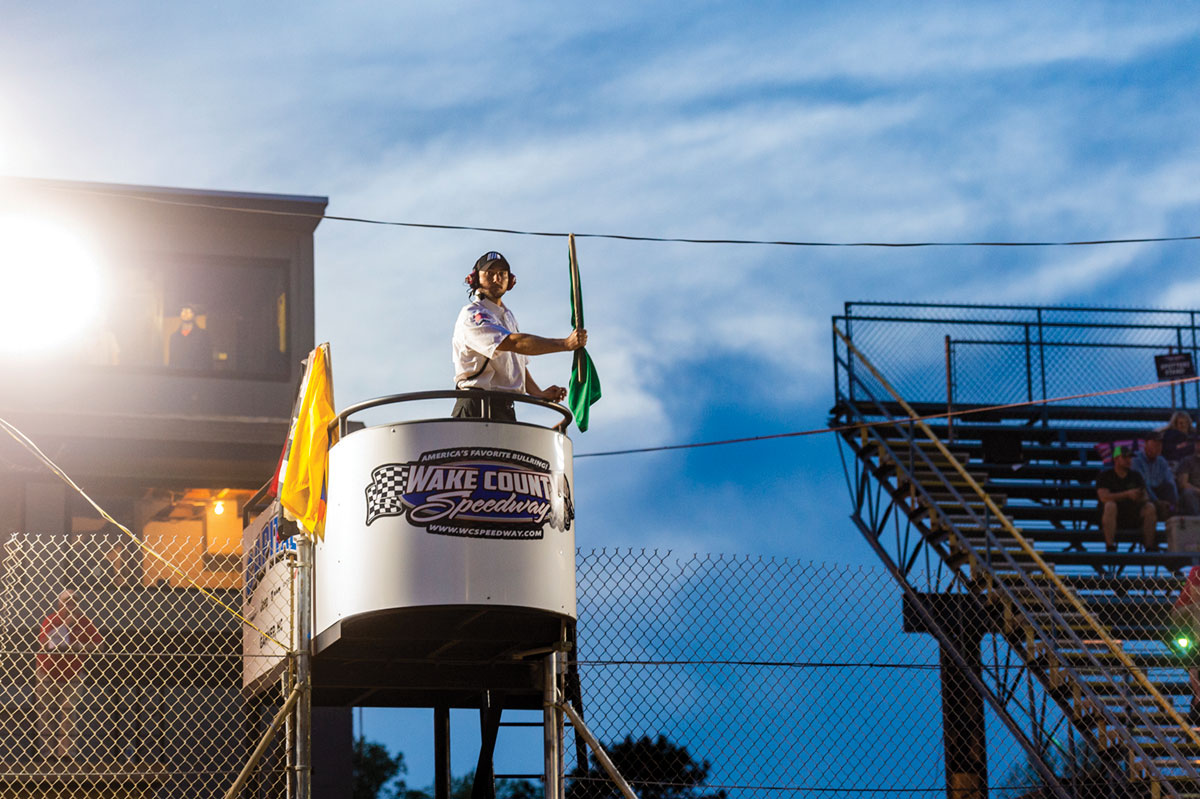 In 2020, Wake County Speedway received an official NASCAR Home Tracks Series designation, and joined the NASCAR Advance Auto Parts Weekly Series. Late Model racers compete for points each week, resulting in a state and national champion at the racing season's conclusion. WCS racer Clay Jones, from Goldsboro, became the 2022 State Champion with eight wins, plus six second-place and one third-place finish at Wake County Speedway last summer, beating out the closest finisher by only four points.

"I love the thrill of competition," he says. "The excitement, pushing and shoving of good hard racing."
Vuncannon is one of many WCS competitors and employees who represent multigenerational love for the sport of racing.
"My dad raced growing up," Vuncannon says. "It's been on my bucket list since."
Driver Faron Laney, from Monroe, NC, is a third-generation racer.
"Once you get in, it gets in your blood," he says. "Racing is very family oriented. People help each other all the time."
Laney races in the Legend Division — cars that are 5/8-scale replicas of 1930s and 1940s-era automobiles, such as a Ford coupe.
"They have lots of horsepower," says Laney. "Lots of NASCAR racers come out of Legend racing."
Other racing divisions include Bandolero, Bomber, and Mini Stock, each with their own set of specifications and features.
"All cars are equally important to make the track work," says Hansen. "Fans like Late Models, which is like the Minor League Baseball of racing. And the track is the perfect size for Legend cars."
Upcoming June & July Races: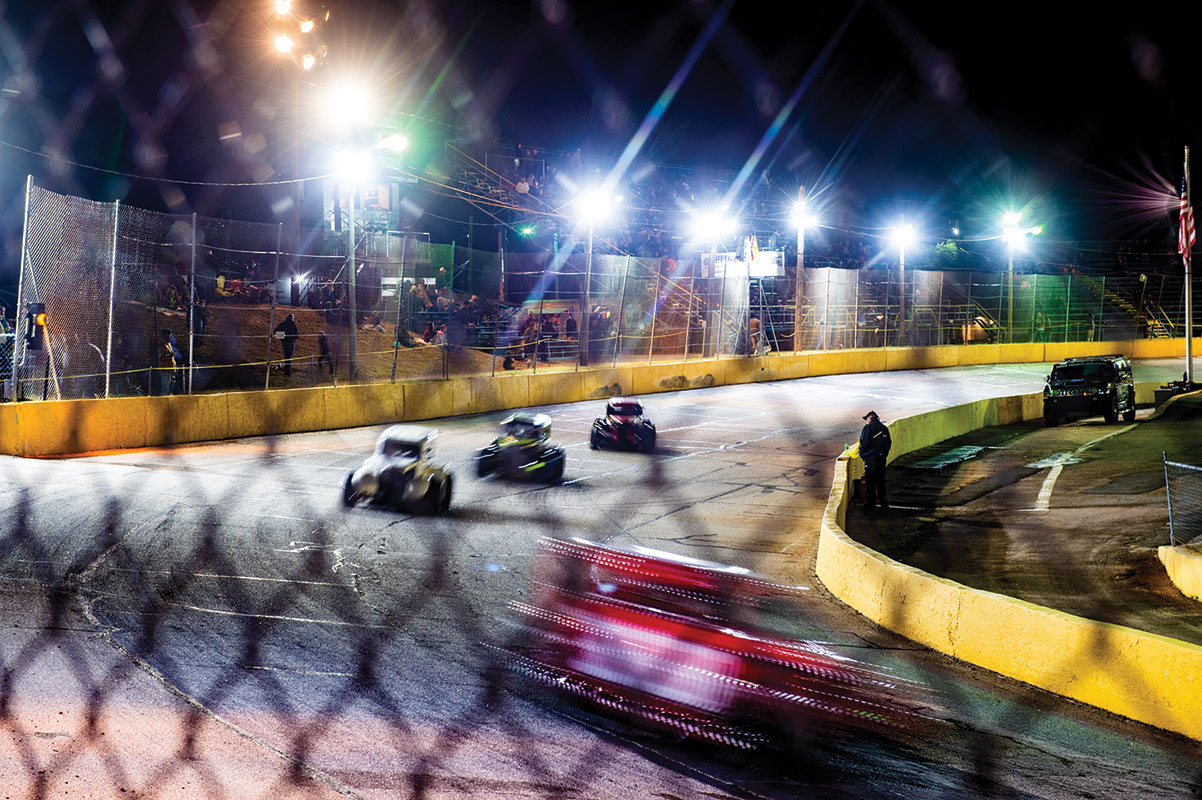 6/2 – Salamanders Night
6/16
6/23
7/8
7/14 – NASCAR Night & Rock the Ring Live Music
7/21
7/28 – Military Night
9/15 – Championship Night

"If you enjoy cars or your kids enjoy cars, you're not going to get any closer to the sport than this. You can almost reach out and touch the track," Hansen says.
WCS boasts several improvements for the 2023 season, including a freshly paved racetrack, new signage and sound system, and upgrades to the pit areas, largely paid for by grants from the Motorsports Relief Fund, which provided money to motorsports venues throughout North Carolina to assist in pandemic recovery efforts.
"That grant saved the track," says Hansen. "Now it's more racer and fan friendly."
Speedway Webmaster Mark Arsen describes race nights: "It's like going to a county fair, and a race breaks out in the middle of it."
An avid fan himself, Arsen says the "flavor" of race nights is a Raleigh experience not to miss — tailgaters line the parking lot, old race cars in various stages of repair dot the grounds, top-notch people watching is guaranteed, and "(cars) go around really fast."
"Occasionally those cars crash," Arsen says. "Fortunately there's a lot of safety that goes into these cars, but you know, that also adds a little bit of a skip to the heart."
Track Manager William Brown began volunteering with WCS in 2019, supporting his son, Zack Brown, who races Legend cars.
"I'm the manager, because I always manage to come out here and fix something," he says with a grin.
"These places are going away," says Brown, of small, local race tracks. "We're trying to keep it going for the kids who love racing. Kids want to come here because of the competition. I want them to be proud of where they race and enjoy it."
"We offer four hours of up close and personal entertainment for $15," says Hansen. "Seeing families come out is what it's all about. I guarantee you'll be back."
WAKE COUNTY SPEEDWAY
2109 Simpkins Road, Raleigh
(919) 578-7858
wcspeedway.com