It's been said that when life gives you lemons, make lemonade.
In the case of The Blind Pelican Seafood House in Holly Springs, when COVID-19 threatened to shipwreck business, the core staff got creative and turned a staple cocktail into a must-try premium experience.
Behold the Ultimate Bloody Mary, now a viral sensation on social media and what could be the most over-the-top gastronomic experience ever conceived.
"Our original Bloody Mary is a 14-ingredient recipe that we make, and it's really good, but when you add skewers of lobster, crab legs, filet mignon, and other items, it becomes something truly amazing," says Josh Self, bartender, bar manager and part owner at The Blind Pelican.
The Cincinnati native, whose wife, Devyn, also tends bar at the restaurant, says a brainstorming session generated the bright idea. A discussion between husband-and-wife proprietors Andrew and Nikki Stafford, longtime bartender Courtney Vandervort and himself resulted in inventing Lobstrocity. Accompanied by a lobster tail, shrimp, bacon, and a grilled cheese sandwich, Lobstrocity is an epic Bloody Mary expression worthy of Neptune himself.
Ultimate Bloody Mary FAQs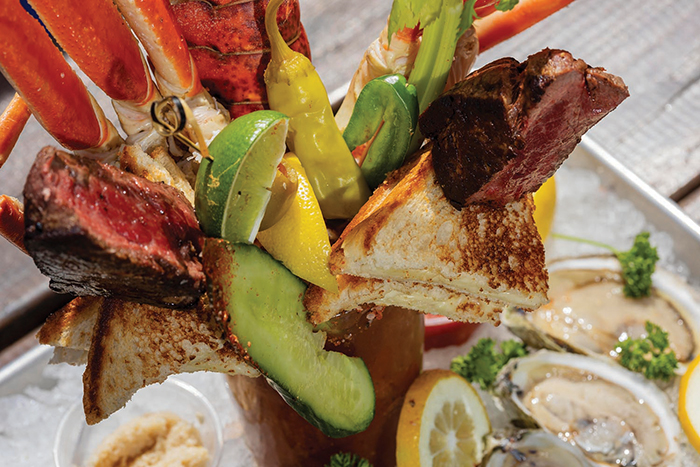 Q: How much Bloody Mary is in the glass besides the garnish items?
A: Sixteen ounces of libation fashioned from an exclusive sriracha-infused vodka, tomato juice, and other secret components.
Q: Are these sharable?
A: Most people order them for themselves, but the larger ones are usually shared.
Q: Which one is the most popular?
A: The Kraken.
Q: Are they only obtainable on weekends?
A: These are offered every weekend, but the restaurant does its best to make them accessible whenever the doors are open as long as enough staff and product are available.
Q: If I'm not a fan of Bloodies, may I get them with other cocktails?
A: Yes, they are available as a mojito, Bloody Caesar with Clamato juice, Bloody Maria with tequila, nonalcoholic, and more.

"The first day we debuted it, we sold 20," Self says. "Day two we sold 40, and on day three we completely sold out. Everyone was taking pictures, and it blew up on social media. Soon people were waiting outside for the doors to open."
This was only the beginning of what has continued to be a wildly successful venture. The Blind Pelican now averages churning out approximately 1,000 Ultimate Bloody Marys each week to locals and others who drive for hours just to see what all the fuss is about.
Now, a specially crafted menu features signature variations like the crab leg-laden The Kracken; filet mignon-imbued Medusa; and Zeus, a no-holds-barred rendition served with a tray of oysters on the half shell.
Ultimate Bloody Marys are also available in build-your-own varieties. Want to add bay scallops? Gotcha covered. Fried oysters? Sure thing. Frog legs? No problem.
Prices start around $10 for a basic version but can easily go north of $100 for a gargantuan head-turner.
"I've seen them get well over $200," Self says. "Options are endless. We had a guy who came in and said, 'I want to set the record.' He doubled the oysters and added extra filet mignon. It was wild."
So, what makes these Ultimate Bloody Marys such a phenomenon?
"It's both a cocktail and a meal, and that creates a unique experience," Self explains, adding that people enjoy the thrill of taking photos but also reimagining a classic drink.
While Self and the other owners of The Blind Pelican are pleased with the overwhelming success of the Ultimate Bloody Mary program, it's worth mentioning that it hasn't been all smooth sailing.
"Our old kitchen staff didn't really want to adjust to this new concept, so they walked out," Self reveals. "That caused us to have to close for a bit and bring in and train new staff. The good news is our current staff members are all on board with what we are doing."
Self says he's grateful to how people have responded to the Ultimate Bloody Mary concept.
"Without the support of people in the community, we would not have enjoyed this tremendous level of success," he says. "We really want to be known not just for our seafood but also for our cocktails."
The Blind Pelican
120 Bass Lake Road, Holly Springs
(984) 225-2471
blindpelicanseafood.com