ORIGIN: In 2016, Raleigh's Trophy Brewing Company adventured into hazy brewing techniques, and Cloud Surfer began to fill the glasses of drinkers Triangle-wide, bridging the gap between classic hoppy beer and the fruit-forward aroma of what everyone craves today in a hazy IPA.
CHARACTERISTICS: Cracking open a can of Cloud Surfer, you'll witness, according to co-owner Chris Powers, "a vision of the evolution of the IPA." With its crisp and balanced bitterness inspired by the West Coast IPA, the straw-yellow color and silky mouthfeel pay homage to the New England style IPA. It's the best of both worlds.
FLAVOR: Cloud Surfer boasts an abundance of candied lime, mango, and pineapple, which puts the beer in a class of its own.
WELL-LOVED: This 6.5% ABV modern IPA is such a popular attraction at the brewery and in bottle shops that Trophy created Cloud Surfer Day, celebrated in May.
This year, Trophy has come up with three different variants: Aloha Surfer, Triple Surfer, and Terpey Surfer. The latter of the surfers will be a new addition that is heavy on terpenes from hop extracts. Terpenes are aromatic compounds found in all plants, including hops, which, when extracted, add a massive burst to the taste of beer.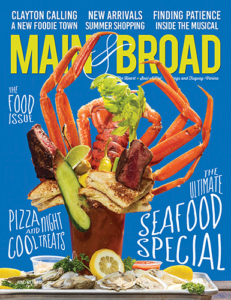 Dig In & Drink Up: Cloud Surfer from Raleigh's Trophy Brewing Company