In 2017, playwright and Holly Springs resident Angie Ottosen-Staheli brought a cast of 80 to the stage of the Holly Springs Cultural Center for 11 sold-out performances of her original play, Finding Patience.
On Stage
At the Holly Springs Cultural Center:
June 9–11
June 15–18
June 22–25
For more information and to purchase tickets, visit findingpatiencemusical.com.

Finding Patience showcases the stories of the area's well-known historical figures, as far back as the Civil War, and undiscovered local residents, with lead character Patience guiding the audience through 200 years of Holly Springs history.
The show returns to the stage this month for 14 performances in a new evolution — as a musical — bringing viewers a chance to witness an intersection of the town's storied past with a demonstration of modern-day talent.
Ottosen-Staheli is an actress, director, and playwright with a deep love of history.
"I'm that person that you hate to go to a museum with or you hate to drive past the roadside markers with, because I have to read everything about everything," she says.
When Ottosen-Staheli and her family moved cross-country to Holly Springs eight years ago, she was struck with the desire to write something in Holly Springs, for Holly Springs.
"I want to know everything about what happened here. I want to know all the layers about this place. There is Revolutionary War history in Holly Springs that people don't even know about. I tracked down anything I could find," Ottosen-Staheli says.
Ottosen-Staheli read Images of America: Holly Springs, by former town historian Barbara Koblich and interviewed Koblich, historical researcher Doris Battle, and countless town residents.
She also dug into census records and digital versions of old newspapers.
"There are two particular stories that nobody living knows about right now that are absolutely amazing Black heroes in town," she says. "The only other way to find that information would be to sit in the library for years going through old newspapers. Because we have digitized newspapers, I can really look for certain things."
Uncovering local stories blossomed into a passion for Ottosen-Staheli, who has given a TED Talk on using theater as a medium for community empowerment.
"If we want to help heal society, to help heal our country from hundreds of years of hard things, I feel like it starts in our own backyard. If we focus on local history, that allows us to validate the past, and at the same time create a new vision for the future and heal together."
"I realize the elephant in the room is that I'm white; I know that," Ottosen-Staheli says. "That is why I feel like it's an interesting opportunity. As a director, I am very serious about conversations and asking questions. I feel like it's an opportunity to come together and learn."
In a town speeding rapidly toward the future, Ottosen-Staheli believes it's just as important to stay connected to its roots.
"It helps when people move to a new place that they're not originally from, if they aren't familiar with what happened before them, for them to really have gratitude for the sacrifices that other people made to create the nice town that they live in," Ottosen-Staheli says.
Near the end of 2019, Ottosen-Staheli and the town of Holly Springs discussed bringing Finding Patience back to the Cultural Center stage to reprise its 2017 success.
"I had this crazy feeling that I needed to postpone until 2022. This is crazy, but I could not get it out of my head," she says. Her instincts proved spot on, because the pandemic hit a few months later, halting live theater for more than a year.
Out of that delay came an opportunity. "In January (2020), I went to a theater conference in Atlanta. While I was there, I had this idea to turn Finding Patience into a musical."
Ottosen-Staheli penned the songs with relative ease — "They just came to me" — but then needed a composer to partner with.
Conducting interviews virtually through Facebook, Ottosen-Staheli discovered Jeremy Phillips, a musician and composer living in Clayton.
"He is a musical genius. I don't know how we got him for this short time. He is going to blow us all out of the water — straight to Broadway, he is so good."
Phillips, who has his own musical theater company, saw the Facebook posts and thought, "Why not?"
"I figured it'd be to write a few songs to be fun, and it'd be a one-off thing," recalls Phillips. "When I got the script, there were twice as many songs as the musicals that I typically write. It was this massive thing."
"As an artist, we're continuously putting ourselves out there, trying to find connections and trying to find projects. You never know when it's going to be the one that takes over your life."
A video of the original 2017 show helped Phillips enter the world of Finding Patience and feel the passion and enthusiasm that fueled Ottosen-Staheli.
"You could tell that (Angie) loves the subject matter when you read it. And when you see it, it's just dripping with sentiments and nostalgia. It was really fun to experience that through someone who really loves the town and bring that story to life," Phillips says.
With a sizable undertaking in front of him, Phillips approached the project with a sense of adventure.
"What is a way of writing that is challenging to me? I want to do something new," he says.
"Going back through the decades, we built a Spotify playlist and tried to figure out how we write a song that's authentic, yet still palatable to the modern audience. So, we take different genres of music, like gospel or blues and R&B, and we infuse a little bit of pop catchiness so that your kids can still listen to it when they're driving.
"A lot of the songs deal with the social justice movement. And so that was the thing I was really interested in exploring. What is the music that came out during those times, when people were making huge changes in culture and standing up for the people who are voiceless? What kind of music were they listening to?"
During the next two years, Ottosen-Staheli and Phillips worked together to craft 17 songs.
As the composer as well as the music director for the play, Phillips is in the unique position to make adjustments and adaptations during rehearsals based on feedback from the singers and creative team members.
"It is empowering for the singers because they get to be there. … They have a perspective they want to share.
"I think that the goal with any collaborative art form is that nothing is complete, unless it's all together. … It's more flexible, and that's wonderful," says Phillips.
Collaborations are abundant in a production of this scale — a cast of almost 40, plus a 20-person team designing the set and costumes, creating choreography, executing marketing and events, and plenty more.
Many cast members are local, but some drive from as far as Greensboro, Charlotte or Fayetteville for rehearsals three times per week. The cast is diverse, not just racially, but in age and experience level as well.
Take, for example, Craig Ashby, retired from a career at IBM with no theater experience prior to 2018. Ashby is one of the oldest involved at 69, and Finding Patience is his fourth local production.
"It's a challenge. I had no training; you really rely on other members of the cast to pull you along," says Ashby.
Or Tammera Hill, who works full time as a lawyer and lives close enough to walk to rehearsal.
"This is therapeutic for me. I go home and I'm tired, but it's a good tired," Hill says.
"A really important piece of it is the team of local historians. We have African American, white, and Indigenous historians," says Ottosen-Staheli, each having the opportunity to vet the script and suggest perspectives to consider.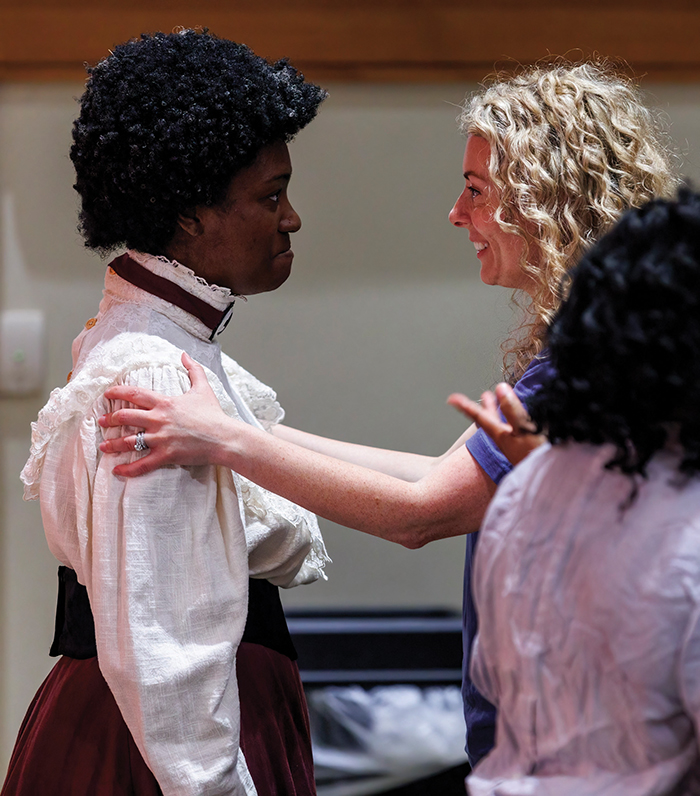 Assistant director Makeithra Evans offers an especially unique vantage point, having played the lead role of Patience in the 2017 performance.
During the production of that show, which Evans describes as the opportunity of a lifetime, she and Ottosen-Staheli formed a tight bond.
"Angie made me feel so comfortable. … As I went through the practices, we became a family. It helped ease the burden of the lines," says Evans. "We have a sisterhood, not a friendship."
As in every relationship, open communication between director and assistant director makes the team stronger.
"I have insight into exactly what the production will need according to the vision that Angie has. I can see things because I've been there," Evans says.
"One thing that I do want people to know: Don't come and see the play with an opinion. Come with an expectation that I'm going to learn."
With histories rooted in the Civil War, slavery, segregation, and times of political upheaval, there's bound to be some heavy moments.
"It gives you an opportunity to get familiar with the unfamiliar and respect exactly what you have in your town. Understand the sacrifices and the blood, sweat, and tears that were made for your freedom to be in a town that's rich in history and opportunity," Evans says.
Finding "Your" Patience Genealogy Event
Finding Patience's 14 performances require a huge outpouring of time and talent, but Ottosen-Staheli wanted to create a unique community celebration off the stage as well.
"We wanted to think outside the box with all of it," she says.
One such undertaking is a special event, scheduled in honor of Juneteenth, with Thom Reed, a genealogy expert specializing in African American ancestry. Two presentations are scheduled during the day-long event to discuss ongoing challenges and new resources available for researching family history.
"I've witnessed how much that identity helps people in their lives, to know where they came from, to know who they are connected to, … to know who in our own families has made the sacrifices and helped create the life we have now," Ottosen-Staheli says.
DETAILS:
Saturday, June 18
Holly Springs Cultural Center
Presentations at 10 a.m. & 4:30 p.m. by Thom Reed. FamilySearch International Consultants will be on site throughout the day to assist with family history research

"Great people came through the town, and now, knowing the history makes you appreciate it even more and gives you the insight that I, too, can make history, can be the change."
"We have a scene where a character is attacked by the KKK. … We have an actor in that scene who can say, 'Yes. I remember when this happened; I was there. Here's what it was like for me,'" says Phillips. "There are people in our cast that want desperately to be heard and to have a voice, and deserve it."
While there may be challenging subject matter, the collision of storytelling, talent, and creativity is a special opportunity to experience and honor the town of Holly Springs, past and present.
"For people who like musicals, this has everything a musical needs. It has romance; there's tragedy; the songs are wonderful. There's big dance numbers and yelling and crying and dying and all the things you want," Phillips says.
With a wry smile Ottosen-Staheli adds, "We're not messing around when it comes to choreography and music rehearsals. We want to get it right, because to us it's a matter of honoring people's stories. We definitely have high expectations of our cast and crew. It's a huge sacrifice for every single person involved, and if you looked at my laundry piling up, you would know.
"We're looking at this not just as a play, not just a musical, as a community celebration."