The Fuquay-Varina Police Department added a dash more expertise this spring when a second K-9 team joined Officer Matthew Jeslis and K-9 Dash in the department's K-9 program, which began in 2017 under former Police Chief Laura Fahnestock.
Officer Patrick Parker and K-9 Shadow graduated from Canine School at Ventosa Kennels in March, ready to serve the town alongside Officer Jeslis and K-9 Dash, who have been working together since October 2021.
The K-9 teams specialize in calls that include tracking persons and objects, perimeter security, article searches, and drug detection.
Let's meet them.
Why did you become a K-9 police officer?
Officer Matthew Jeslis & K-9 Dash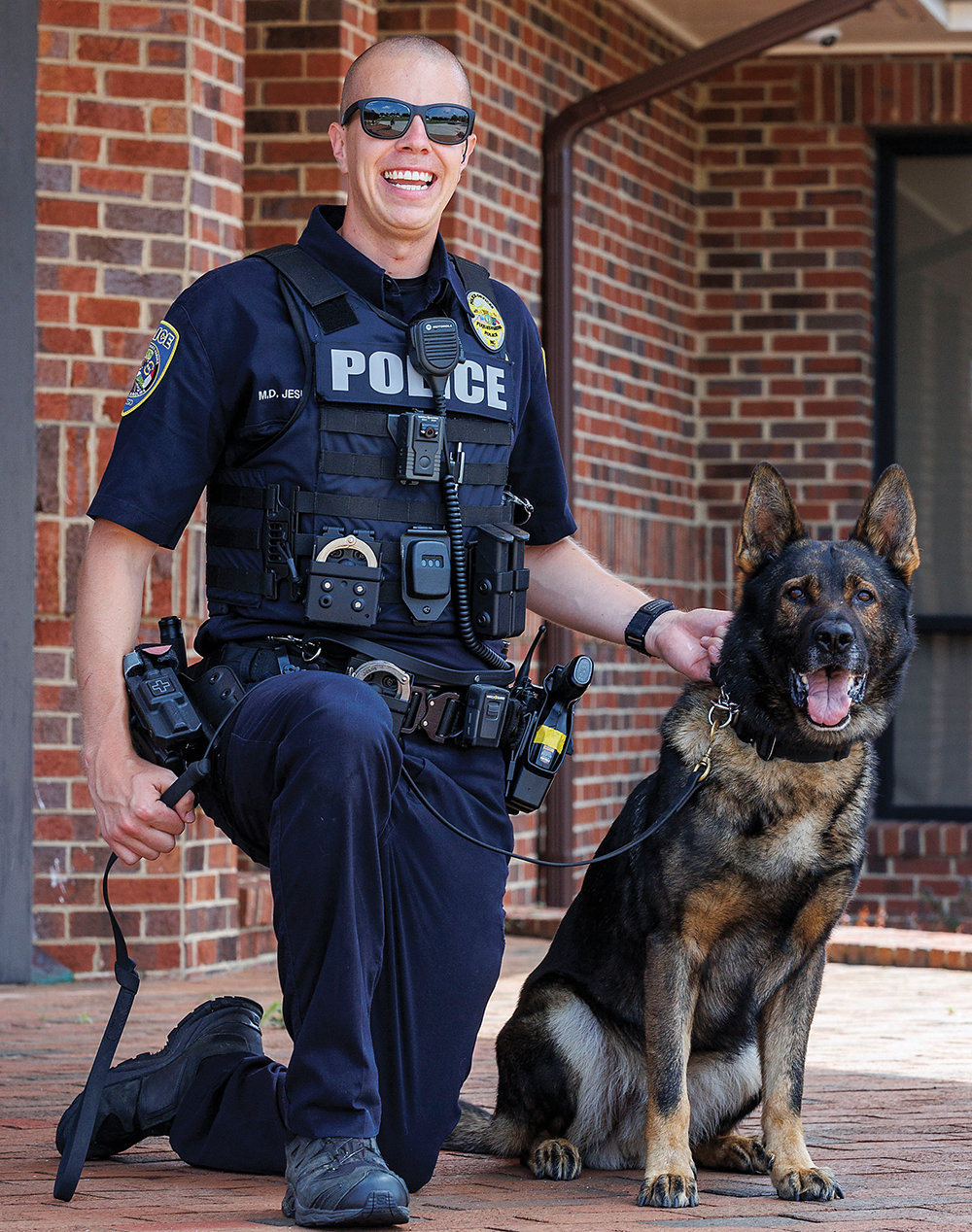 Facts About K-9 Dash
Breed: German Shepherd
From: The Netherlands
Age: 5
Speaks: Dutch
Handler: Officer Matthew Jeslis
Date of Hire: 2017

Officer Jeslis: It was something I always wanted to do. I found joy in finding bad guys and guns, and getting drugs off the street. In doing that, I realized what a great tool the K-9s are. I also like animals, which is a plus!
Having a partner and best friend with you while you're working to help fight crime — what else could you ask for?
Officer Parker: You are actively working with a dog that listens to you 100% of the time, obeying you, always with you. He's your second, silent partner.
As well as helping the community, finding a missing person or missing kid — there's nothing more interesting or special that you can do in this job than helping out anybody else.
What is the training like?
Officer Jeslis: First we completed a six-week basic handler course. It's a crash course in basic animal first aid and how to read your dog. You get the basics, then go back and fine-tune and practice and improve through other training and seminars. The dog is a great tool, but you have to keep up with it. The skills are perishable. If they don't do it enough, they forget.
Officer Parker: The program is only as good as the training provides. If you have quality training, then the dogs are ready to work. We are very confident when we put (the dogs) in a car that they are working to the best of their ability.
Officer Jeslis: We train for a minimum of 16 hours each month in obedience work and narcotics detection. We train together every Thursday. It's great when you have someone else with another dog that knows what's going on to help you.
Officer Patrick Parker & K-9 Shadow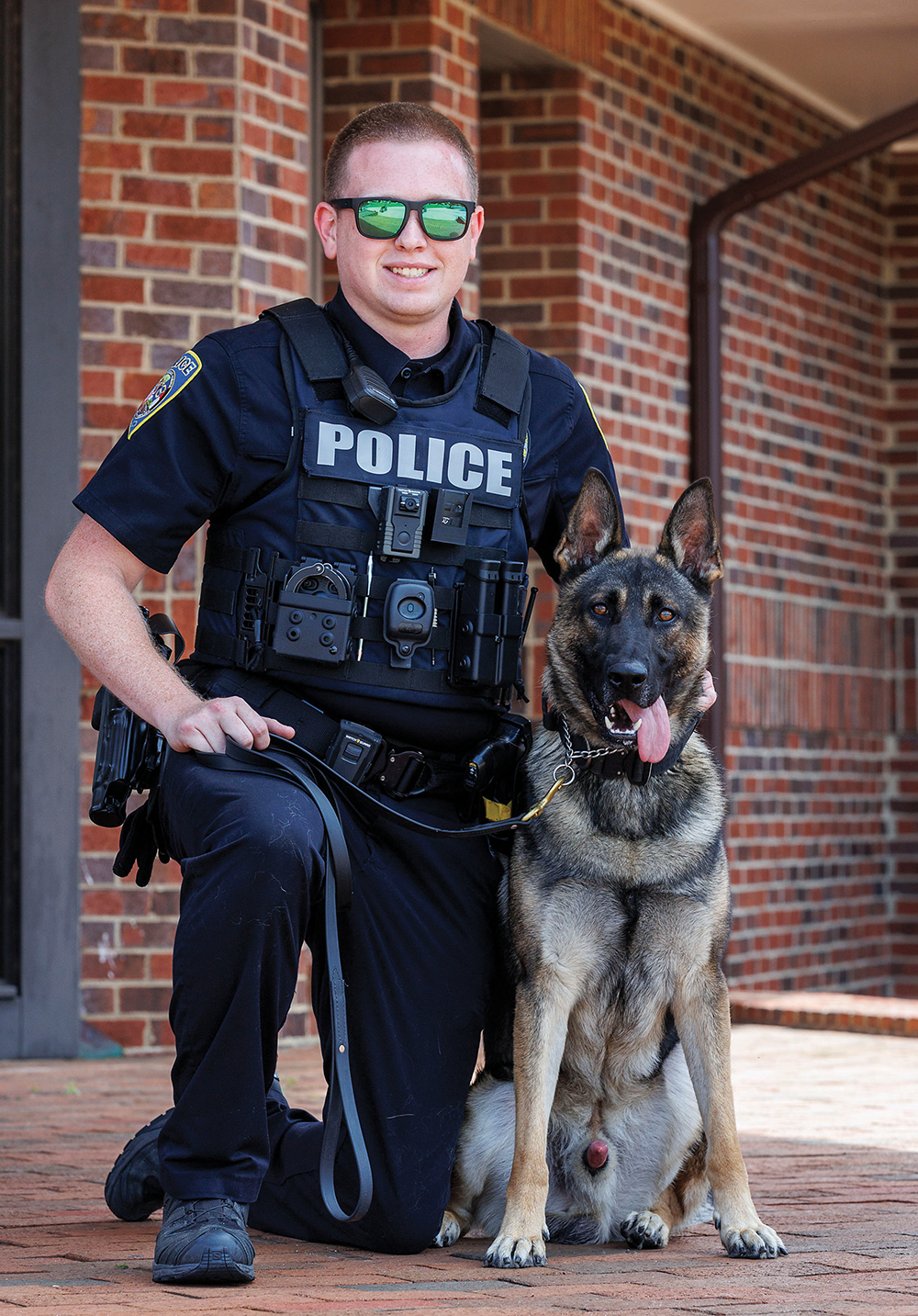 Facts About K-9 Shadow
Breed: Belgian Malinois and German Shepherd mix
From: Hungary
Age: 2
Speaks: Dutch
Handler: Officer Patrick Parker
Date of Hire: 2022

What are your most common calls?
Officer Jeslis: The most common deployments are narcotic searches, most coming from traffic stops. Next would be tracking and building search or perimeter support.
Why do you give commands in Dutch?
Officer Jeslis: Part of it is you don't want the general public giving commands. It's an extra layer to make sure that he's listening to us, and the suspect doesn't know exactly what we are saying to him.
Officer Parker: We use commands for drug search, lay down, sit, stay, heel — we're constantly using all of the commands.
What has been your most rewarding call?
Officer Parker: We've only been on the street since March. At one traffic stop we seized a trafficking amount of heroin and a second stop which yielded cocaine, methamphetamine, and marijuana.
Officer Jeslis: K-9 Dash and I were called out to do a search for a gun. Officer Parker stopped a car (his truck was in the shop, so he didn't have his dog with him) and the guy took off with a gun on foot into the woods. (The man) came out and surrendered without the gun.
We knew the gun was in the woods; it was a matter of finding it. By the time K-9 Dash and I got there, it was two hours after the initial call was started, and we were able to find the gun together.
It was very satisfying that no one found the gun and it can't be used in crimes.
Can the public interact with the dogs?
Officer Parker: If they are out of the car, we are probably actively working with them. They are in a different mindset than when we're at home. Most of these dogs are trained to bite, and accidents do happen. We don't want someone to come up and surprise the dog.
Officer Jeslis: We welcome visitors to the police department for a tour and meet-and-greet with the dogs. Part of our role is interacting with the public, doing K-9 demos at schools and churches and events. We love to do that. We definitely want people to interact with us, but we might not always be able to do it right then on the street.
Call the department for demos and events and to schedule a tour. We want people to know we have the dogs here; we want people to know there is a need for the dogs in the community.
What do the dogs do to relax off the job?
Officer Parker: (Shadow) loves to run and play fetch. On days off, we play a little; mostly he's chillin' at home. He's earned his time off and needs to decompress.
He knows when I come out in uniform that we're going to work. He gets super excited, goes to the door, and starts jumping up and down. He's ready to go.
To meet the K-9 teams and schedule a tour, call the Fuquay-Varina Police Department at (919) 552-3191.