Less than a mile south of historic downtown Fuquay sits a new business that is a paw-sitively purr-fect addition to Southern Wake.
Right Meow Cat Cafe, founded by Karen and Damion Posey of Holly Springs, offers patrons a unique two-pronged experience — a bright and cheerful cafe offering specialty coffee and boba tea beverages, and a relaxation lounge to pet and cuddle rescue cats awaiting their forever homes.
"The experience is therapeutic," says Damion. "You can't sit down and pet a cat and not have your attitude change."
Cat cafes are a growing trend, but still relatively rare, with only about 150 existing in the US, according to Google. In early 2022, the Poseys drove by one in Carthage, NC, and the idea stuck with them.
"We both felt like the world was different post Covid. There was a lot of isolation, anxiety, and depression. We'd been looking for something positive to do," says Karen.
The prospect of opening their own cat cafe started as a joke — "we should just quit our jobs and open one" — but within the weekend turned into a goal.
"We both really felt called to do this," Karen says.
The Poseys dove into researching locations, regulations, and how to create a profitable business.
"A lot of cat cafes offer self-serve coffee. We knew we wanted to do something bigger," says Karen. "There was no boba tea in Fuquay, so we learned really quickly how to make boba and boba tea."
Add to that a slate of experienced baristas crafting specialty coffee drinks, and customers started pouring in to order Meowcchiatos, Catpuccinos, brown sugar milk teas, or design-your-own teas with tapioca pearls or popping boba.
Right Meow served more than 3,300 drinks in their first month.
"Boba and coffee are always open, whether you have a cat reservation or not. When you buy from us, you are saving a cat's life," says Karen.
The lounge area — where the cats live, which is separate from the cafe — accommodates up to eight people at a time, currently by reservation only.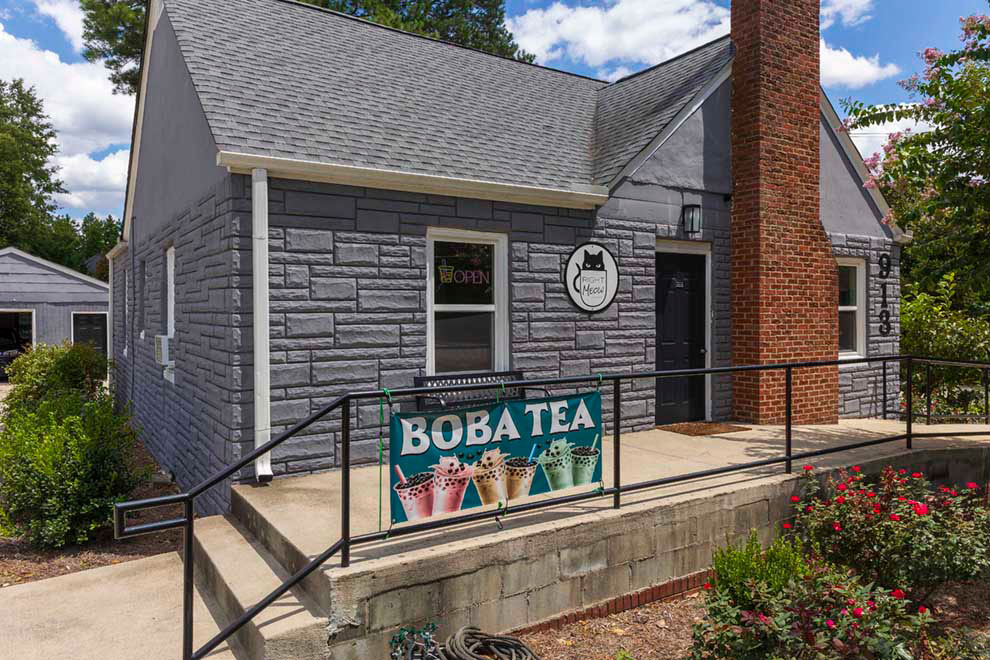 "We think that once summer is over we might be able to accommodate walk-ins. We want to make sure that people aren't (showing up) excited, and then getting turned away for lack of space," says Karen.
One-hour reservations cost $10, a fee that helps Right Meow pay for rent, insurance, staff, and supplies.
"We think it is a very valuable experience. It feels good to do good," she says.
Three connected rooms make up the lounge, full of cozy seating, cheerful decor, and pops of colorful orange — "a happy, feel-good space."
Remakes of historic works of art with added cat cameos adorn the walls. Think the Mona Lisa holding a cat in her lap, or kittens gazing into Van Gogh's Starry Night sky.
"We want to keep it very zen and calm. We find that the cats all tend to come out because they love the calm vibe and the people," says Karen.
Cats and kittens arrive at Right Meow through their partner organization, Facilitate Rescue, a Harnett County-based nonprofit that saves animals from high-kill shelters. Up to 12 cats can live at Right Meow at a time, and remain there until adoption.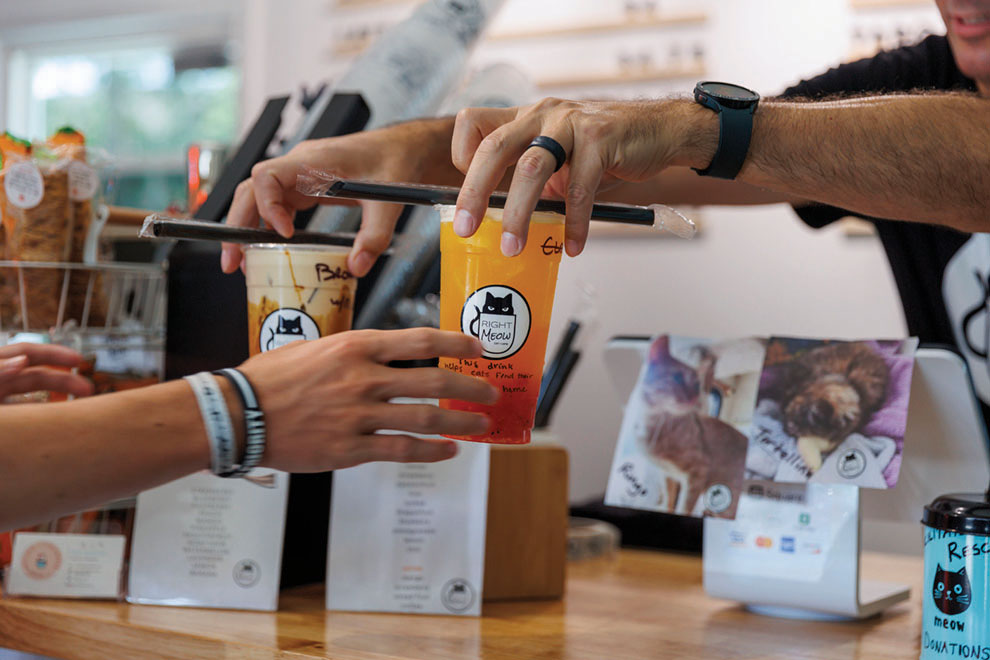 "There is so much need," says Karen. "We get phone calls daily from people with kittens, but we can't take them."
In the first five weeks of operation, 10 cats were adopted, a huge success for the fledgling business. Adoptions are completed through Facilitate Rescue, accompanied by a $150 fee that covers spay/neutering, microchipping, and vaccinations.
Tips For Cat Therapy
PLAN AHEAD.
Reservations book up a week in advance.
WEAR SOCKS.
Shoes must be removed upon entering the lounge. Socks are required.
ARRIVE 15 MINUTES EARLY.
Allow time for parking, which is limited on-site, and placing drink orders.
LET THE ANIMALS COME TO YOU.
Cats and kittens enjoy interacting with guests, but picking them up is prohibited.
SAY "HI."
"We want to greet people; we want to be a true local spot," says owner Karen Posey.

"If you have troubles outside, if you're male, female, or an alien, the cats don't care. Inside, you are just hanging out with a cat who will love you no matter what," says Damion. Karen adds, "You can't be sad when you have cats on your lap."
The Poseys have four cats, and three sons, at home. "From the bricks up, this is a family affair," says Damion. "All of my children have put their hearts into this place."
10-year-old Jude painted a cat mural in the bathroom and sketched the logo. 19-year-old Caleb works as head Cat Wrangler, making sure cats and patrons are safe and following the establishment's rules. And 21-year-old Noah digitized and finalized the business logo.
The family has come across plenty of people who don't share their enthusiasm for felines.
Karen advises, "Give it an hour. Cats have so many different temperaments, so many personalities. People think they don't like cats, but sometimes they just haven't met the right cat yet."
"When you come here, we want you to find your right meow," Damion says.
RIGHT MEOW CAT CAFE
913 S. Main St., Fuquay-Varina
(919) 888-3884
rightmeowcatcafe.com