Confession time: Several years ago, when a sign appeared on a property in the Holly Springs Village District announcing the future home of the Pimiento Tea Room, we stalked the place on social media and drove by regularly to check on progress. After all, it's not every day a restaurant pops up in a 180-year-old historic house.
Although the extensive renovations took considerably longer than expected, proprietors Matt and Christy Griffith remained consistently upbeat. The couple sent Main & Broad updates regarding site development, the kitchen addition and their plans to get investors involved in backing the restaurant.
Fast forward to the end of 2020: The meticulous transformation was finally completed, and the Southern-inspired eatery situated in the 1840-built Brown-Holloway House opened its doors for business.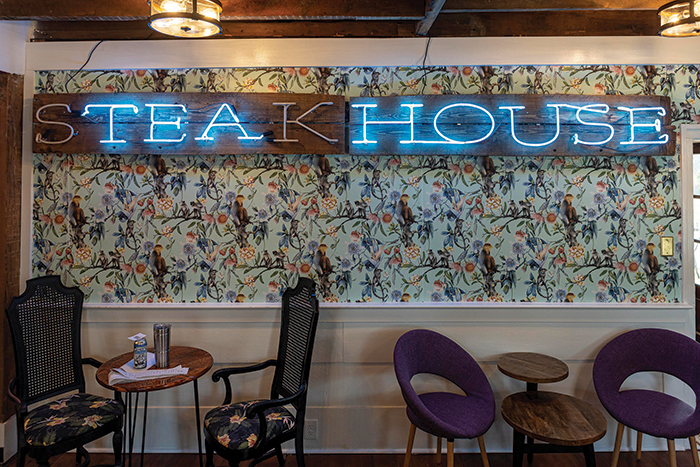 "The idea of a modern teahouse has been in our minds for a long time," says Matt, a Virginia native who met Christy while the two were students at N.C. State some two decades ago. " We looked at the house back in early 2017 and knew it would be perfect for our concept."
Christy agrees, adding, "We love hosting and feeding people, and we wanted to provide a relaxed place that everyone can gather."
Offering small plates for lunch and dinner, Sunday brunch, snacks and tea-infused libations, Pimiento Tea Room – also affectionately known as PTR – is refreshingly eclectic. The owners describe their space on social media by employing whimsical hashtags like #untraditional, #NotYourMamasTeaRoom and #MessySandwiches.
Of course, opening amid a global pandemic wasn't exactly part of the business plan.
"We were at the point of no return when it came to developing and opening the restaurant, but thankfully the pandemic allowed us to grow organically," Christy explains. "We're really grateful that the community has embraced it so far."
It 's easy to see why people have quickly come to love PTR. For starters, the charming, unpretentious interior woos guests to linger and unwind, especially in the bar and lounge area. Ensconced on the space's main wall is a reclaimed, illuminated "STEAKHOUSE" sign with the first "S" and the "K" unlit so the sign now reads "_TEA_HOUSE."
A fireplace mantle contains various framed photos of county singer Dolly Parton.
"Can you tell me anyone who doesn't like Dolly Parton?" Christy asks in a matter-of-fact tone.
Then there's the brass-topped bar juxtaposed by heart pine beams, the result of Matt's painstaking removal of ceilings and walls to reveal the hidden wooden treasure.
In the main dining areas, antique furnishings abound, including vintage family cookbooks.
"We bought a lot of things from thrift stores, estate sales and auctions," Matt says.
"Even the flatware and the glassware were purposefully selected to help create a memorable experience," adds Christy.
Don't miss the quirky wall of silhouettes near the front entrance. See if you can find, for instance, Alfred Hitchcock, Homer Simpson, painter Bob Ross, and Daniel-san from the "The Karate Kid" film series.
Perhaps what guests have embraced most, though, is the food. The menu changes frequently, so check the PTR website for the latest offerings.
"I get bored easily, so that's why we mix things up so often," explains Christy, who serves as primary chef.
Hailing from Maryland, Christy spent time in Wake Tech's Culinary Arts program before taking a break to have children.
"All three are now teenagers, and they are our A-Team here at the restaurant," Christy says aptly, especially considering that a framed portrait of 1980s fictional character Mr. T hangs on the dining room wall.
When you visit PTR, start your culinary adventure with some snacks like black-eyed pea hummus, assorted pickled vegetables or — fittingly — pimiento cheese and saltine crackers. Then select a bowl of vegan and gluten-free turtle bean soup or next-level Brunswick stew that's so lip-smacking good you'll want to take some home for later.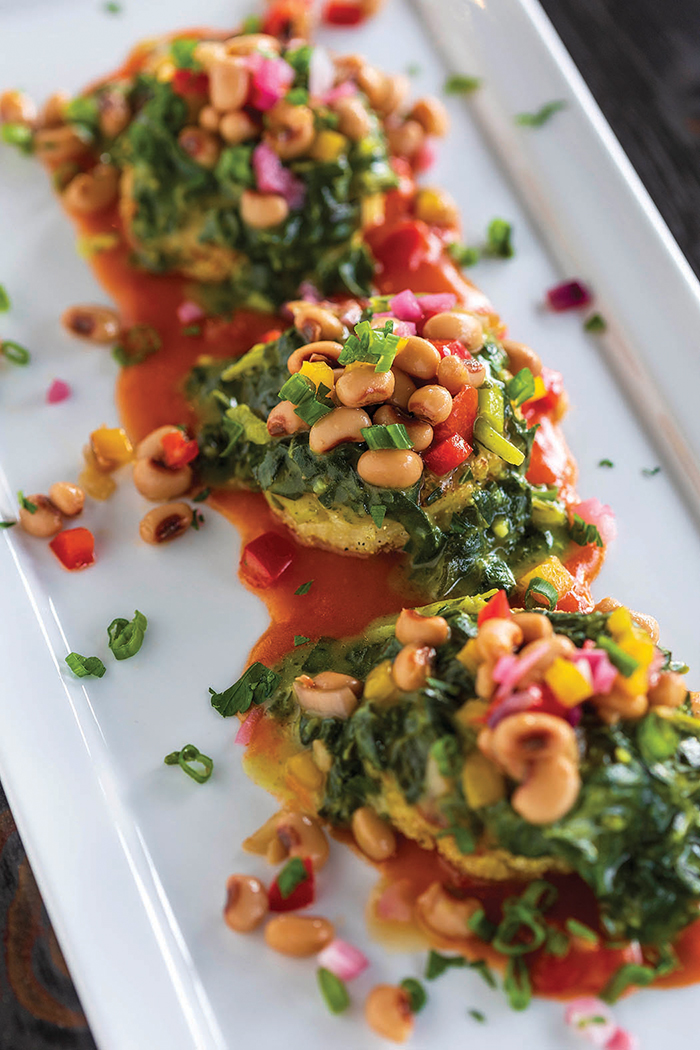 A must-try ten-layer salad features pickled red onion, tomato, Monterey jack cheese, egg, green peas, fried black-eyed peas, scallions and — get this — pimiento cheese dressing. A vegan version of the salad is available as well.
Inventive tea sandwiches are served on house-made toasted olive oil bread. How about smoked catfish spread with pickled read onion, crushed kettle chops, baby greens and Texas Pete mayo? Possibly roasted sweet potato with sundried tomato goat cheeses, arugula, honey and candied jalapeno? Or even cucumber with carrot, iceberg lettuce and kalamata olive mayo?
"We will always offer a vegan option with our sandwiches," Christy says.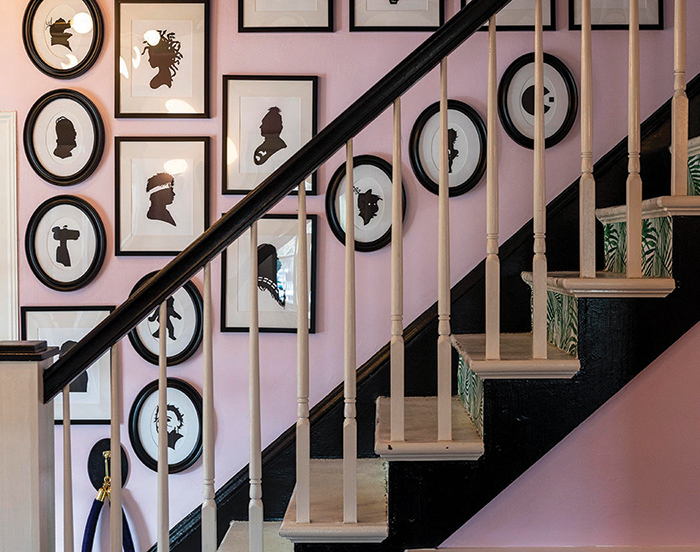 Popular scones served with flavored butters will not disappoint. Choose a flight of three butters, which include choices such as honey-scallion, sundried tomato, candied bacon, cinnamon-brown sugar, salted chocolate matcha and vegan-vanilla.
"We also have a unicorn butter, which is a vanilla with sprinkles," says Christy. "Every time I see it show up on a ticket in the kitchen, it makes me calm down and smile."
PTR also serves supper Tuesday through Saturday. If it's available, order the chicken and veggie pot pie with buttermilk biscuit crumble topping and lemon-roasted green beans. For a vegetarian delight, try the cornmeal-encrusted risotto cakes crowned with curried coconut creamed collards and green chile tomato gravy.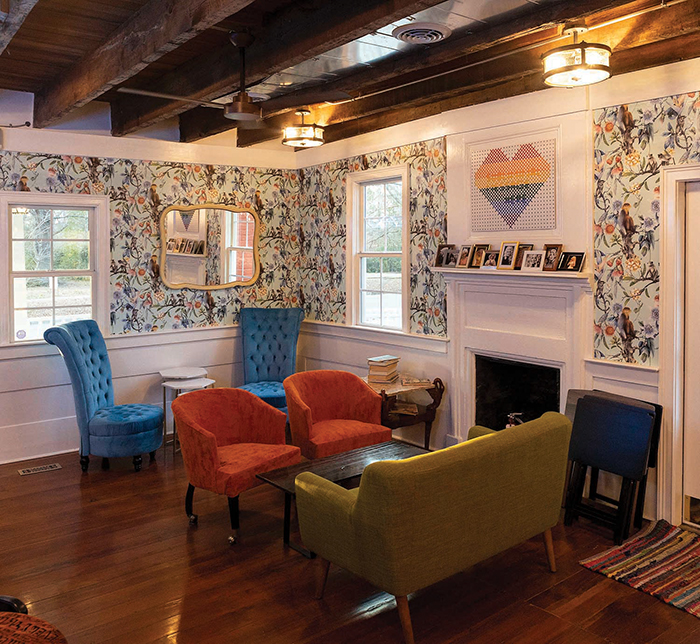 "With the vibe we have, we decided to be bold with the menu," Christy says. "We are excited to have so many regulars, and they seem to appreciate the constant variety."
The drink menu is equally audacious. Intriguingly, all the specialty cocktails are permeated with tea.
"We steep tea directly into the spirits," Matt says. "One of the specialty cocktails is The Widow Nickels, which pays homage to Virginia Nickels, who lived in the house in the 1860s."
Nearly a dozen selections of tea drinks, from Earl Grey No. 69 to the fruity Feng Shui, deserve strong consideration. And so does Dirt, a robust, high-octane mixture of coffee and tea.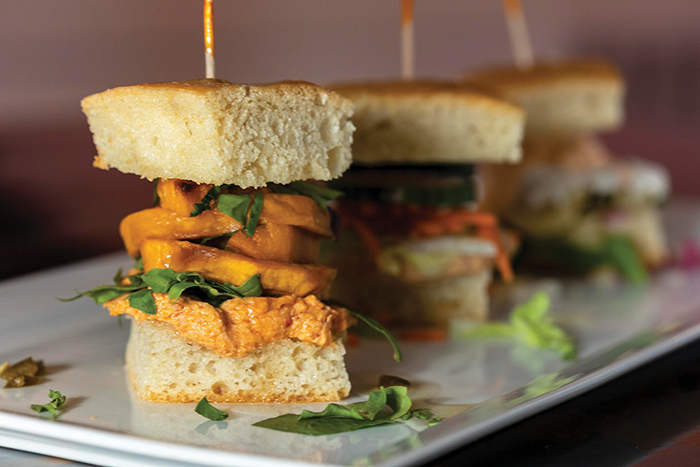 Save room for dessert. Petit four-style sweets range from a chai-spiced poundcake truffle and salted brown butter Rice Krispies treat to an Arnold Palmer white-chocolate lemon cake with sweet-tea icing.
"There truly is something for everyone," says Christy. "We also make Sunday sundaes for brunch."
Once the restaurant hits its stride, Matt and Christy plan to create a give-back component to support a worthy charitable cause.
"Our youngest daughter, Eve, was diagnosed with kidney cancer when she was two years old," Christy says, "so we want to do what we can to support (the nonprofit) CureSearch for Children's Cancer."
PTR is open Tuesday through Sunday and does not accept reservations. Indoor and outdoor seating is available. Arrive early for a prime seat on the front porch. And tell them Main & Broad sent you.
Pimiento Tea Room
200 Norht Main St., Holly Springs
(984) 225-4213
pimientotearoom.com
Make at Home: Candied Bacon Butter
Candied Bacon
Ingredients
1 oz light brown sugar
1/4 tsp fresh ground black pepper
1/4 tsp chili powder
1/2 lb thick sliced bacon
Preparation
Combine sugar, pepper and chili powder in a bowl.
Line a baking pan with foil and insert a wire rack coated with cooking spray.
Place bacon on rack and bake at 375 degrees for 5 minutes.
Remove and sprinkle with sugar mixture.
Bake another 5-10 minutes or until cooked. Sugared bacon will harden as it cools.
The Butter
Ingredients
1 lb unsalted butter, room temperature
1/2 tsp kosher salt
1 3/4 oz light brown sugar
1 1/2 oz honey
1 3/4 oz candied bacon, chopped
Preparation
Beat butter in stand mixer with salt and sugar until fluffy.
Add in honey and bacon. Mix until well combined.
Yields 1 1/4 lb
Recipe courtesy of Pimiento Tea Room