It's a warm night at Cary's Koka Booth Amphitheatre in April. As the sun sets, a four-person band performs an eclectic combination of country twang, rock guitar and thoughtful lyrics.
It's a one-of-a-kind sound created by brothers Landon and Aubrey Digh and their band 2Digh4 (pronounced two-die-four). This hometown group is familiar to many, hailing from Fuquay-Varina and regularly performing across the Triangle (and beyond), but their dreams don't stop there.
The Digh brothers, natives of Fuquay-Varina, have known music all their lives.
"There was always singing in our house," says Kay Digh, mom to Landon, 28, and Aubrey, 26.
Landon and Aubrey credit their father, also a musician, for their inherited musical talent. But it was Kay who enrolled the brothers in their first piano lessons — with Diana Thomas at Fuquay's Joyful Sounds Arts and Music Academy. Guitar lessons followed shortly thereafter.
"Aubrey could play by ear," says Kay, who the brothers refer to as their backbone of support. "They both caught on immediately and loved it."
During middle school, both brothers added instruments to their skill set — trumpet for Landon and violin for Aubrey. And at Fuquay-Varina High, they participated in theater productions, singing and acting, as well as performing the national anthem at sporting events, thanks, in part, to encouragement from their high school chorus teacher, Ruth McCoy.
"She was more than just a chorus teacher; she really tried to speak to everyone individually. She would be there to talk about anything," said Landon.
During those high school years, Landon and Aubrey began to experiment with writing their own music and performing duo shows.
"In high school, I had tried writing a song. It will always be that first song I wrote," says Landon. "I can tell you exactly what it was and how it goes.
"We started doing duo gigs, thinking 'Let's try this out and see what happens.' Some of these places want you to play for three hours, and that's three hours worth of songs you have to learn. When you start out, you have nothing."
Landon and Aubrey both attended East Carolina University earning degrees in social work — studying and playing music along the way.
"It helped us realize music is really our passion. It just doesn't make sense to do anything else," says Aubrey.
Landon wrote a song called "North Carolina," a tribute to his home state, "sitting on the front porch" during his years at ECU. This song would eventually become the band's first single, but first, served to springboard 2Digh4 to its first taste of fame.
The pair entered "North Carolina" in a 2016 Battle of the Bands competition sponsored by B93.9 New Country radio station, which they went on to win after two head-to-head concerts and an online vote.
The grand prize for winning — opening for country music superstars Florida Georgia Line and Cole Swindel at the Carolina Country Music Festival in Myrtle Beach, S.C.
"It was an awesome experience. We loved it," says Landon. "It was our first taste of being a VIP."
The band's unique sound — what the Digh brothers call "country rock" — comes from a variety of influences.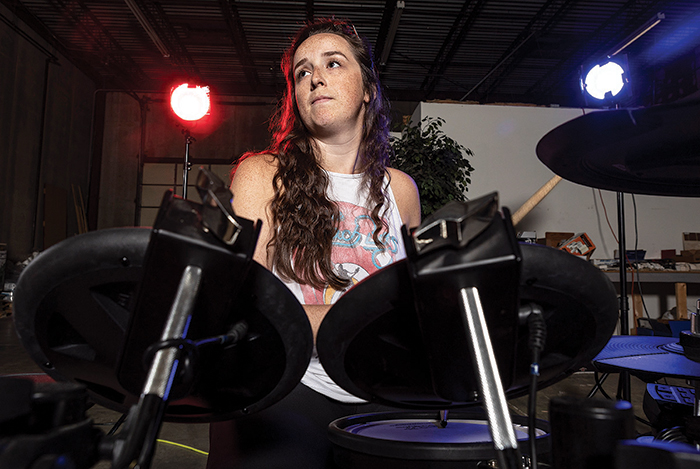 "Nineties and early 2000s country is a big influence of ours," says Aubrey. "We do some pop covers as well, and have some rock aspects. It's kind of hard to put a finger on it exactly."
He lists John Mayer, Keith Urban and Gary LeVox of Rascal Flatts as strong musical influences, but also adds Reliant K, a Christian rock and punk band, and classic rock songs.
Aubrey describes 2Digh4 as: "A country written song, with Landon's country twang, vocals and lyrics, along with some heavy crunching guitar."
Their original songs are vocally driven, formed through a unique, collaborative writing process. For example, Landon will sketch out a melody, add lyrics, then pass the tune off to Aubrey to write the lead guitar part. The brothers involve their other band members, drummer Melody Ballard and bass player Mike Kachman to round out the sound.
Typically Landon sings lead vocals and plays acoustic guitar, sometimes banjo, while Aubrey jams the lead guitar and harmony vocals. But it's not uncommon for their roles to switch.
"What seems to be our main draw is the brotherly harmonies. It's something different, hard to explain, but most people can hear it," says Landon.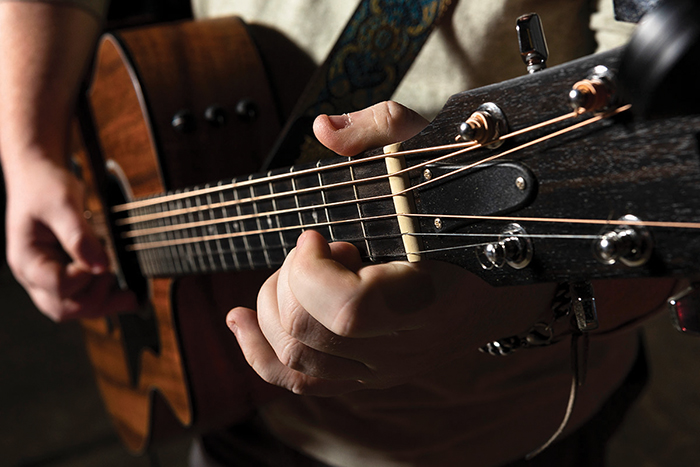 The first album "4 the years gone 2 soon" was released in 2019, featuring 10 original songs, including their signature hit "North Carolina" and the single "Indefinitely," which reached #1 on Country Digital Indie Music Charts in January 2021.
Throughout last year, 2Digh4 has been able to continue performing outdoors with safety precautions in place. One of their biggest shows took place last May at Scooters in Raleigh, just after the most intense shutdown restrictions were eased.
"People realized how much they needed music and arts during that time," says Samantha Pulley, 2Digh4's booking agent. "People realized how much they missed it. It was a really cool thing to see everybody come together for that show."
This summer, the group is booked solid on Friday and Saturday nights, playing some weekday shows as well. You might find them at Buccaneer Music Hall in Greenville, Mike's Farm in Beulaville, Big Mike's BBQ in Apex, Belleau Wood Brewing in Lillington or Brixx Pizza in Cary, among many others.
Shows are typically half original songs, half covers, offering a good mix of 2Digh4's unique sound and familiar hits.
"Their music has touched me a lot. I want other people to feel that, too," says Pulley. "That's what my goal with the booking is, to get them out there so other people can feel that."
Kay Digh describes Landon as outgoing, gregarious, the leader of the pair. Aubrey is the peacemaker, she says, with a more reserved demeanor and sarcastic wit.
"They both have big hearts and would do anything for anybody."
"I attend every single show, except during quarantine. I love to go to their shows," Kay says, who works as a school psychologist at Fuquay-Varina Middle School. "I am so proud of them using their God-given talents."
Food Fight!
In honor of our food issue, the Digh brothers share their favorites.
Home-cooked meal
Landon: Corned beef, cabbage, taters, onions and carrots all mixed up
Aubrey: Chicken, steaks or pork chops on the grill with green beans
Candy
Landon: Starbursts, Air Heads, Sour Skittles, Twizzlers, and bubble gum
Aubrey: Tough call, but probably Peanut Butter M&M's
Fast food
Landon: Arby's or Jersey Mike's, hands down
Aubrey: Cookout, with Chickfil-a and Taco Bell as close seconds
You won't catch me eating
Landon: Tomatoes. It's a texture and a flavor thing. No tomatoes. Thumbs down.
Aubrey: Pickles
Ice cream flavor
Landon: Cayenne chocolate mixed with cinnamon; yes, both exist. I also love butterscotch milkshakes
Aubrey: Peanut butter or peanut butter cup, coffee, dark chocolate & mint chocolate chip

The brothers credit their faith as a fundamental influence on their lives. They both work as contemporary worship leaders for churches in Farmville, N.C., to which they commute every Sunday from Fuquay.
"As strong Christians, it has been a goal to inspire people not just with our music, but by staying as humble as we can be," says Aubrey. "Showing people you can make a mark upon the world and still be who you are."
Next up for 2Digh4 is a performance at the N.C. State Fair this fall, recording their second album and releasing a new single, called "Dang, Bro."
"It's got a Louisiana, swampy feel with banjo and some bluesy harmonica," says Landon.
"They write from their experience," says Kay. "About things that mean a lot to them."
Even through the uncertainty of the last year, Landon and Aubrey want to get to know people at their shows, and interact with the crowd, she says.
"That's the coolest thing to me when someone says, 'I listen to your music. I've heard it; I love it,'" says Landon.
When someone tells you that such and such song that y'all wrote inspired me to be a better person, or inspired me to do something for someone else, that touches your heart."
Follow 2Digh4
2digh4.com
@2Digh4