Earlier this year, the annual Fuquay-Varina Garden Tour, hosted by the Fuquay-Varina Garden Club, showcased eight homes to nearly 400 guests.
Main & Broad got an inside look at four of them.
---
The Andersons' Downtown Garden
Since moving into their downtown Fuquay-Varina home more than 15 years ago, sisters Linda and Kim Anderson have worked to eliminate their grassy lawn and replace it with winding pathways through dense vegetation and fun garden art.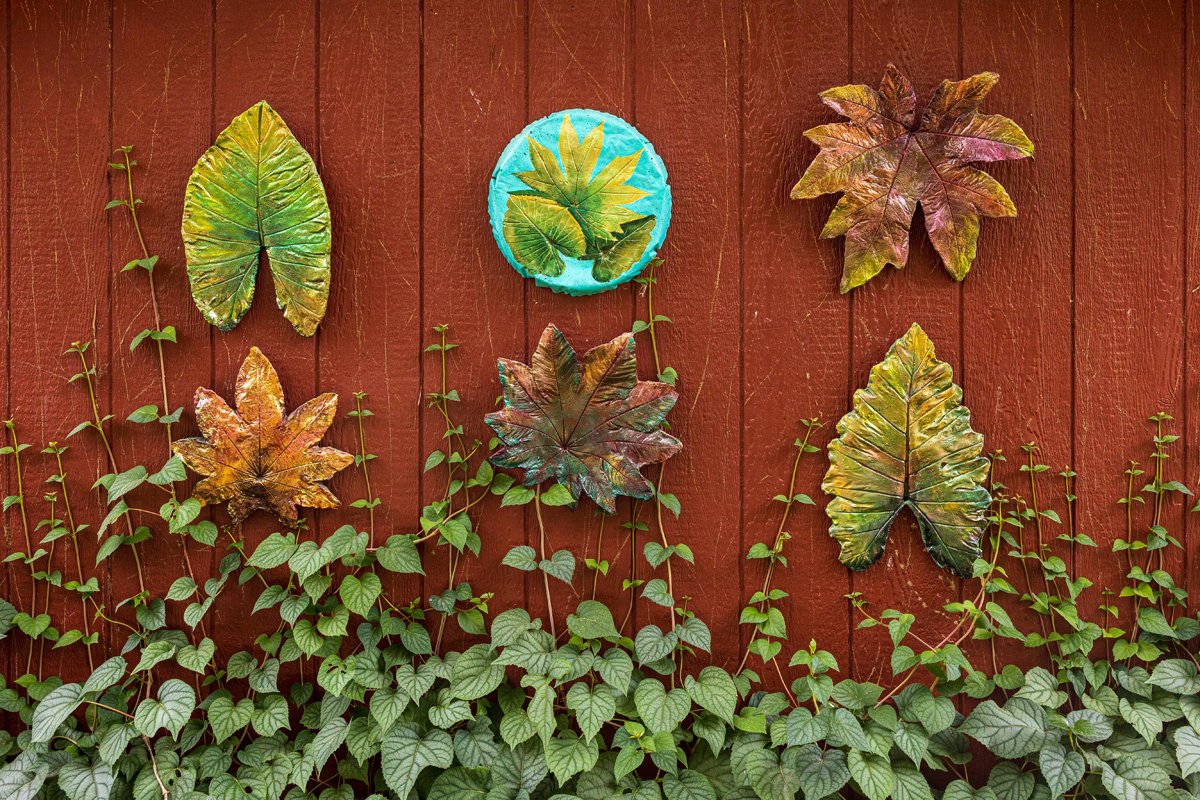 "Gardening is addicting once you get started," says Kim.
"Plants are surprising," Linda adds. "They'll disappear for two years, then come back."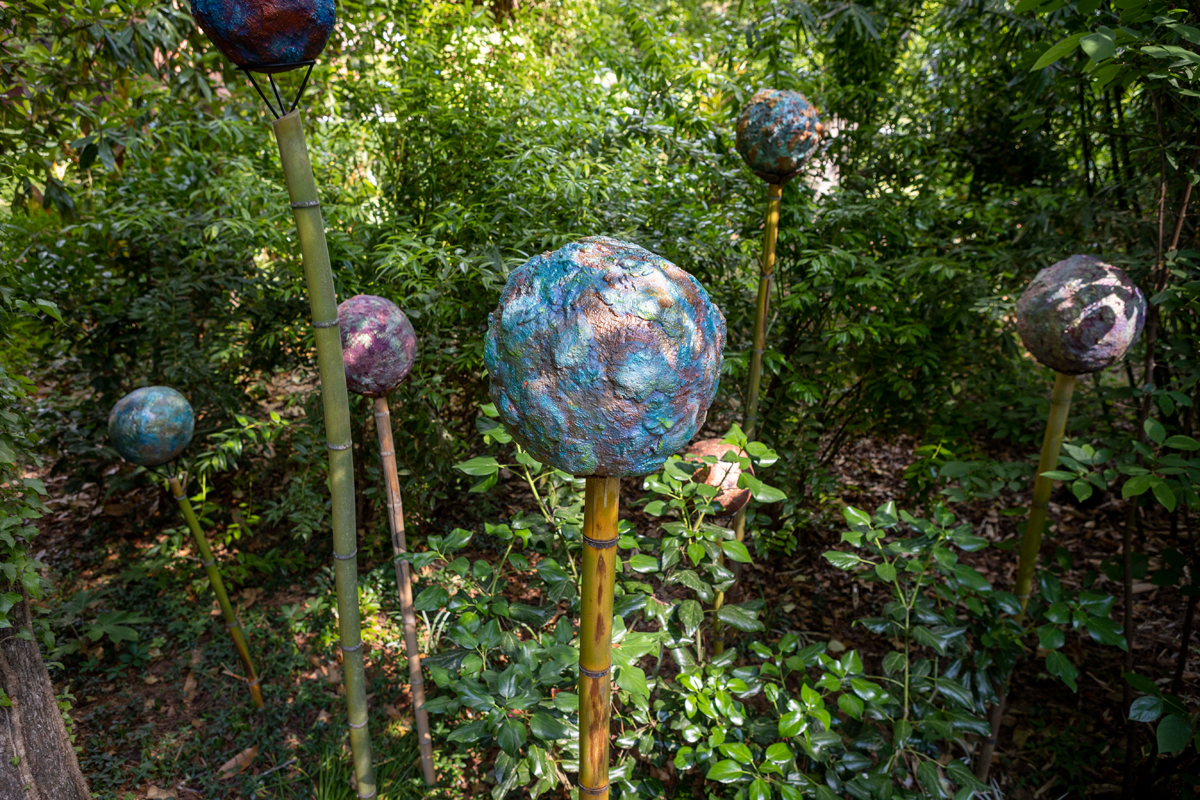 Star with Soil.
A horticulturalist by trade, Linda emphasizes the importance of preparing soil with compost and good-quality mulch. Lay out bed lines with a hose or rope to gauge shape and size.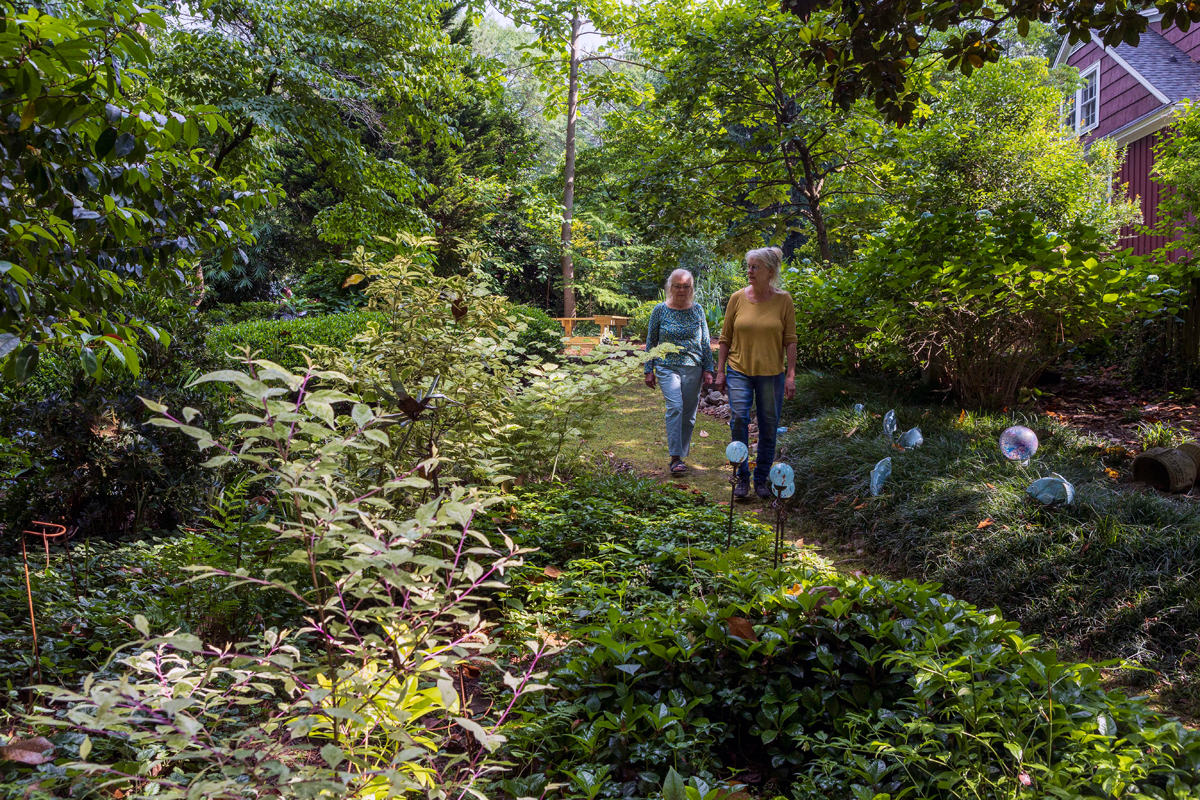 Find Your Formula.
The majority of plantings should be native, but that doesn't mean there isn't room for experimentation. Linda and Kim's model is: 50% native species, 25% near-native and 25% exotic plants, including an eye-catching pineapple guava tree with edible petals.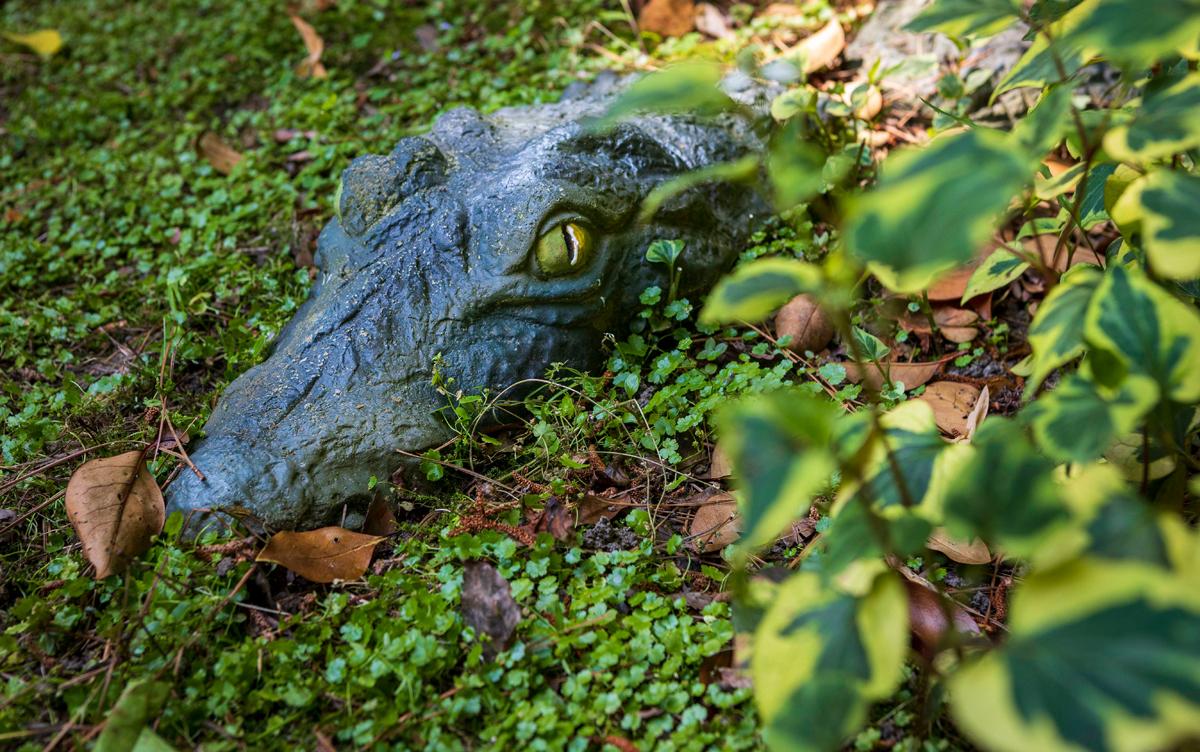 Surprise and Delight.
Alligator sculptures hide among the underbrush, handcrafted mushrooms and garden globes dot swaths of green, and there's even a painting hung outdoors accenting a stoneware planter.
"All of our garden art is from local artists or we make it," says Kim, who welds whimsical metal accents and creates mushroom sculptures with concrete.
---
The Bryants' Sculptural Oasis
The home of Randy and MaryAnn Bryant backs up to Hilltop Needmore Town Park & Preserve in Fuquay-Varina. The lush landscape frequently catches the eye of walkers passing by, as it did last spring when members of the Fuquay-Varina Garden Club stopped to spontaneously recruit the Bryants to participate in the 2021 Garden Tour — it worked.
During the nearly 20 years the Bryants have lived in their home, trees have been felled by hurricanes or disease, and replaced by a layered, shady oasis.
"What you do inside your home, you can do in your garden," says Randy, a former art teacher. "The same principles of balance, of design, of symmetry are applicable in the garden."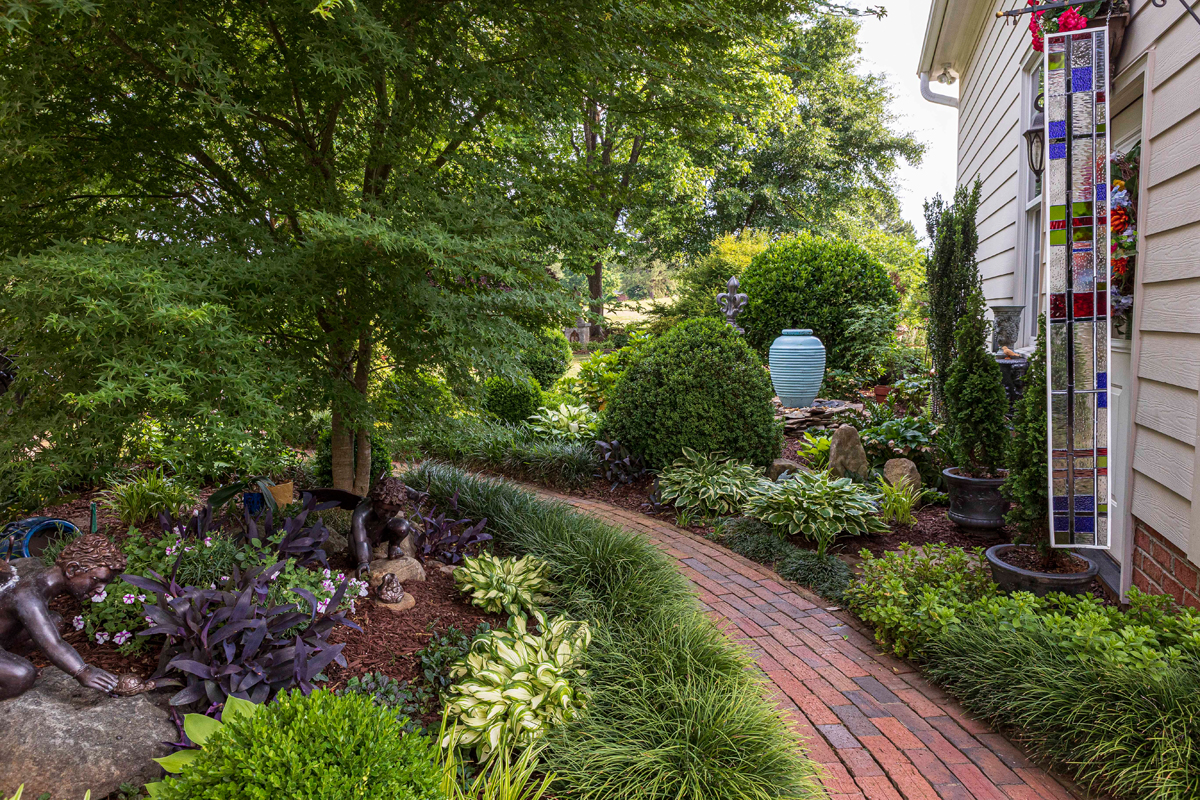 Repetition is Key.
Planting the same type of plant throughout the garden creates fullness and connects the landscape with a cohesive design.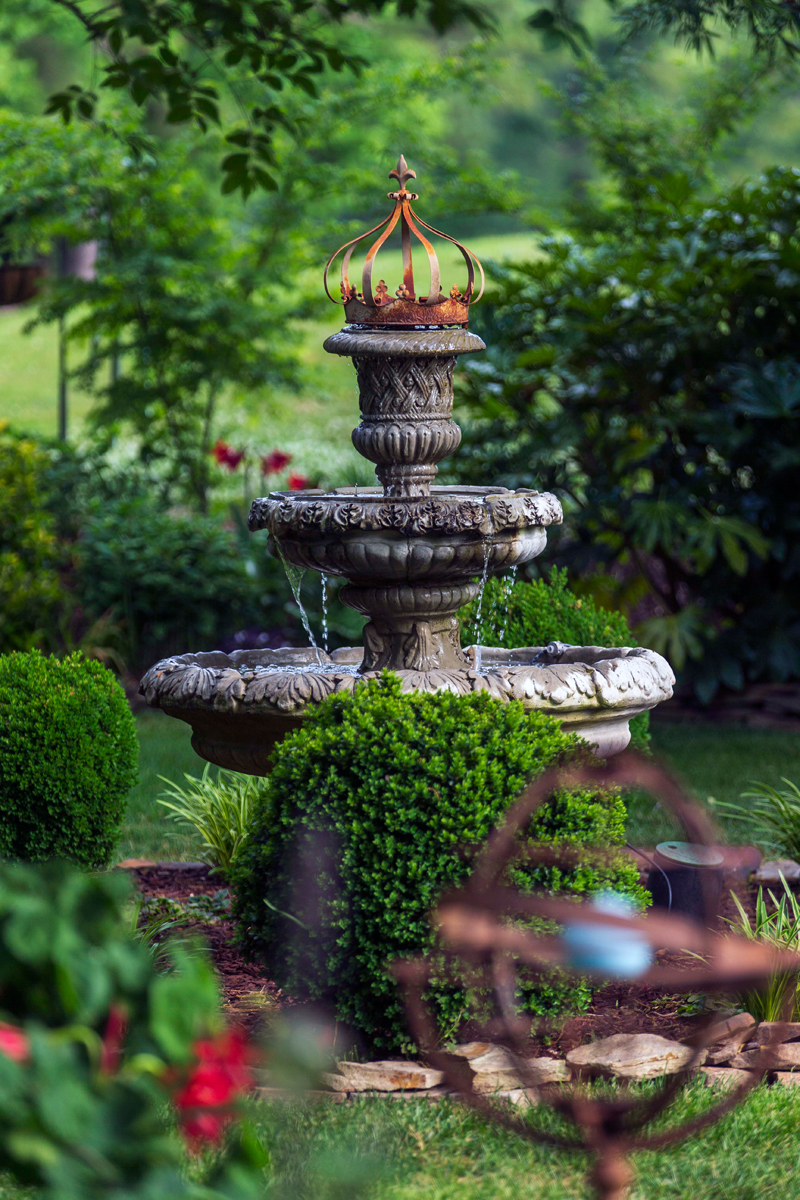 Inspiration Provides Direction.
Studying French and English gardens helped shape the evolution of Randy's landscape, as did inspiration from Williamsburg, V.A.
"Include well-known gardens in your travel plans," Randy suggests, to soak in the native plant life and get ideas to bring back home.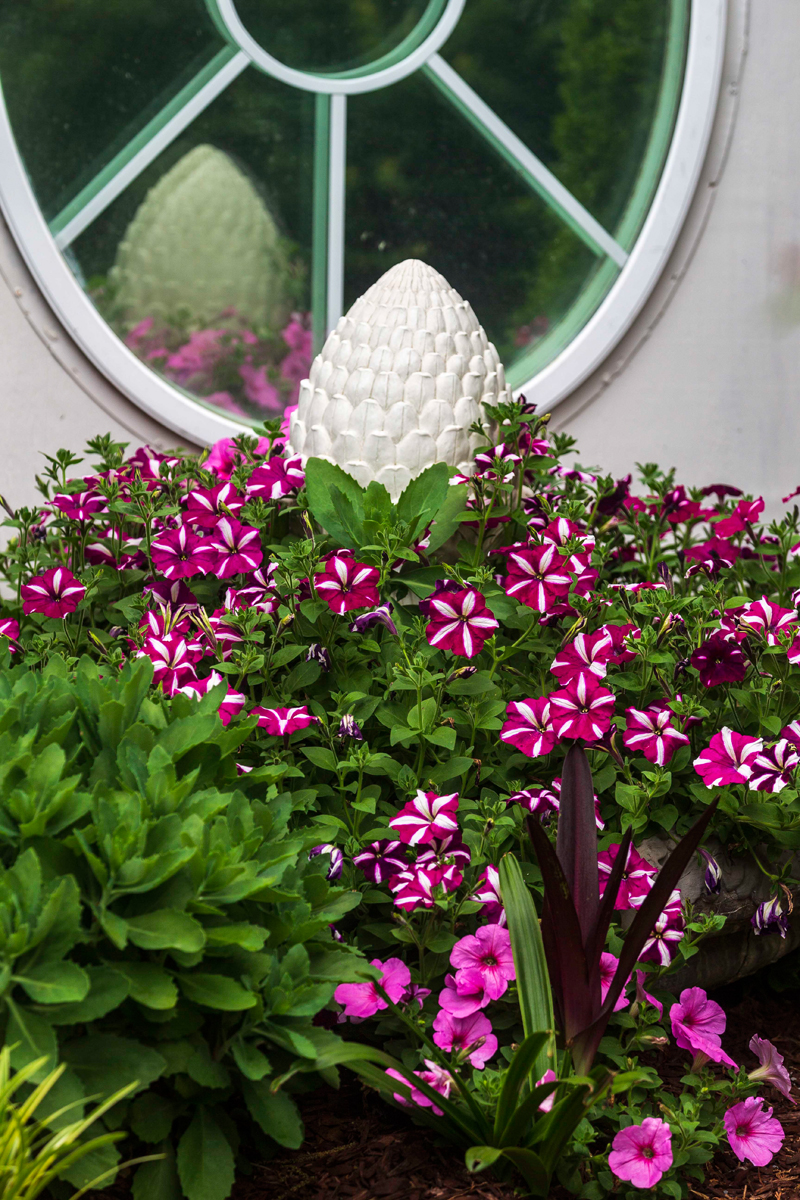 Include Architectural Elements.
Sculptural features like giant stone planters, a tiered fountain and a mirror break up the washes of foliage in the Bryant's yard and create an interesting place for your eye to rest.
The mirror was carefully placed to hide the back of the garage, says Randy.
---
The Bookers' Botanical Escape
Pam and Kirk Booker are no strangers to the Fuquay-Varina Garden Tour, making their fourth appearance on the tour in 2021. Their home's surrounding landscape, lovingly called "Booker Botanical," includes an array of hardscape features mixed into the verdant setting.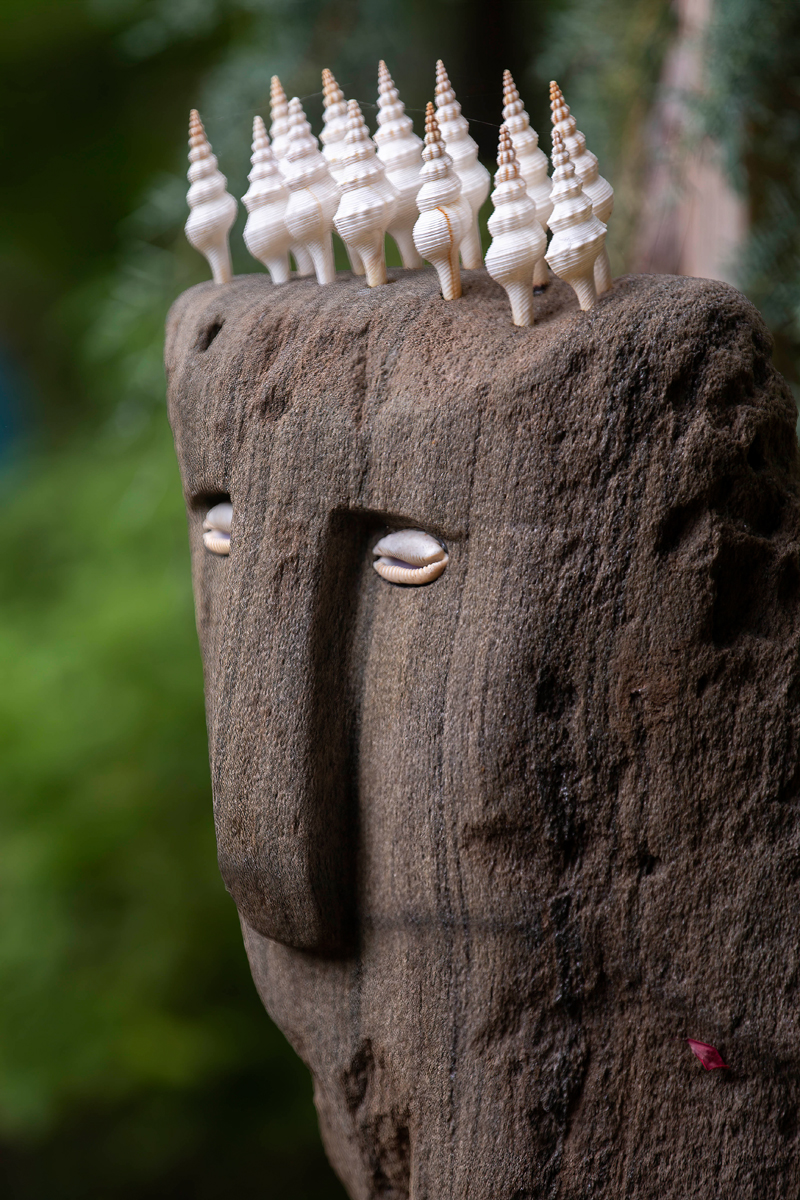 A wine bottle installation, collection of working lamp posts, 22 water features, garden bells, custom-built arbors and a unique hanging quartzite slab are all peppered throughout the grass pathways that snake through the Booker's backyard.
"This is our happy place," says Pam.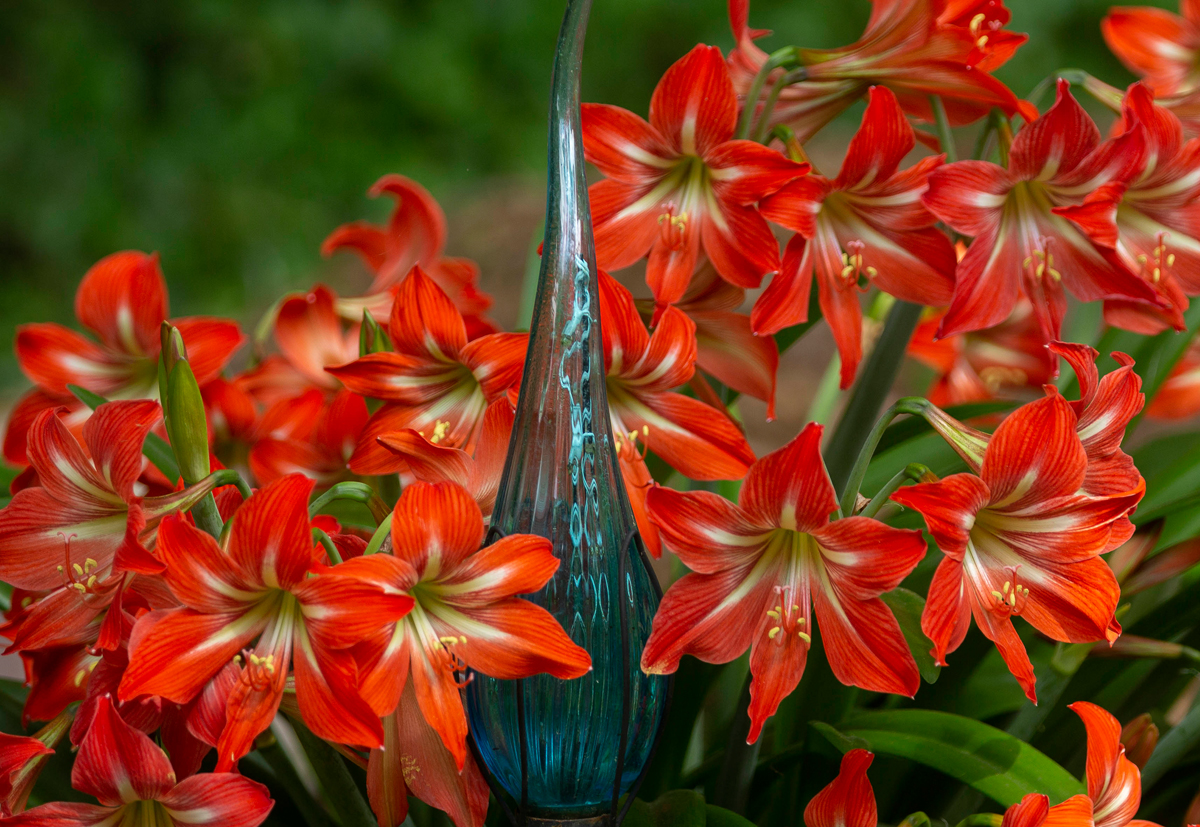 Create Outdoor "Rooms."
Creative plantings and hardscaping create unique zones within the Booker's backyard. Unique conifers accent the front of the home. An outdoor fireplace draws an evening crowd. The "perimeter patio," near the property's edge, borders a horse farm and provides occasional glimpses of the equine residents.
"By 4 p.m. it's shaded and the temperature drops. It feels like a different ecosystem," says Pam.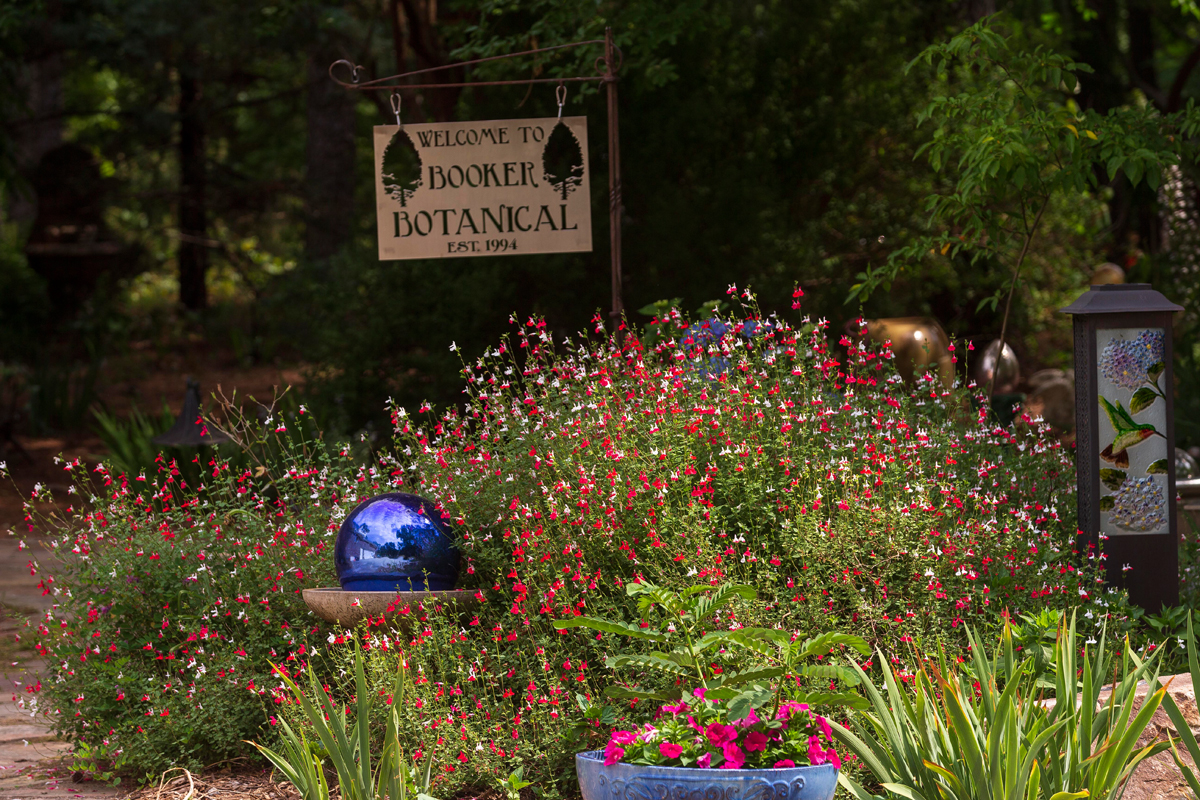 You're Gonna Need Patience.
Turning a basic lawn into a botanical oasis happened one tree at a time, Pam says, over the span of several years.
"It's a labor of love," she says. "You have to enjoy it."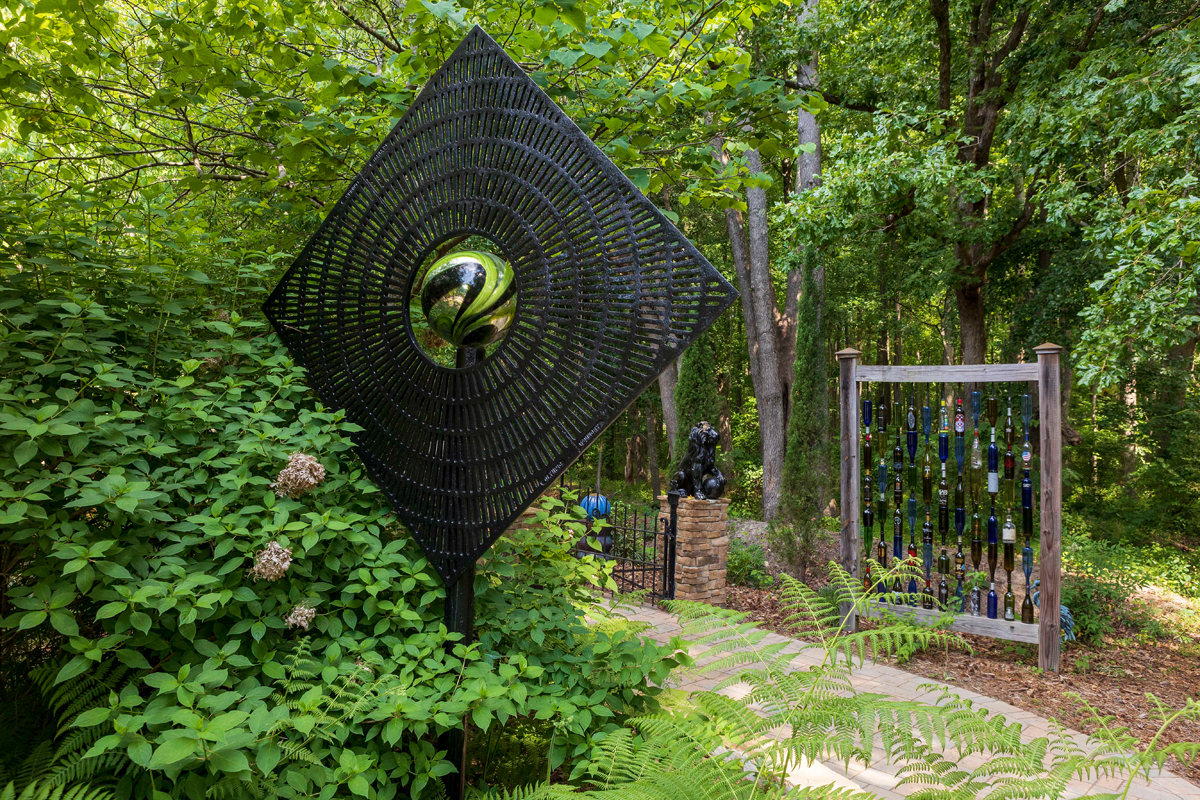 Placement Makes Perfect.
Planting things in the right place can be the difference between success and failure in the garden. Shade versus sun, appropriate drainage, and nutrient-rich soil are key points to keep in mind.
Pam volunteers as a master gardener in Harnett County, helping others with just those types of garden issues. "We offer education. People call in, and we help identify problems," she says.
---
The Wiltshires' Surprising Scenery
Haylie-Jo Wiltshire's typical suburban home is located in a typical Fuquay-Varina subdivision on a typical neighborhood street. The drive in reveals little of the whimsical wonderland of flowers that awaits.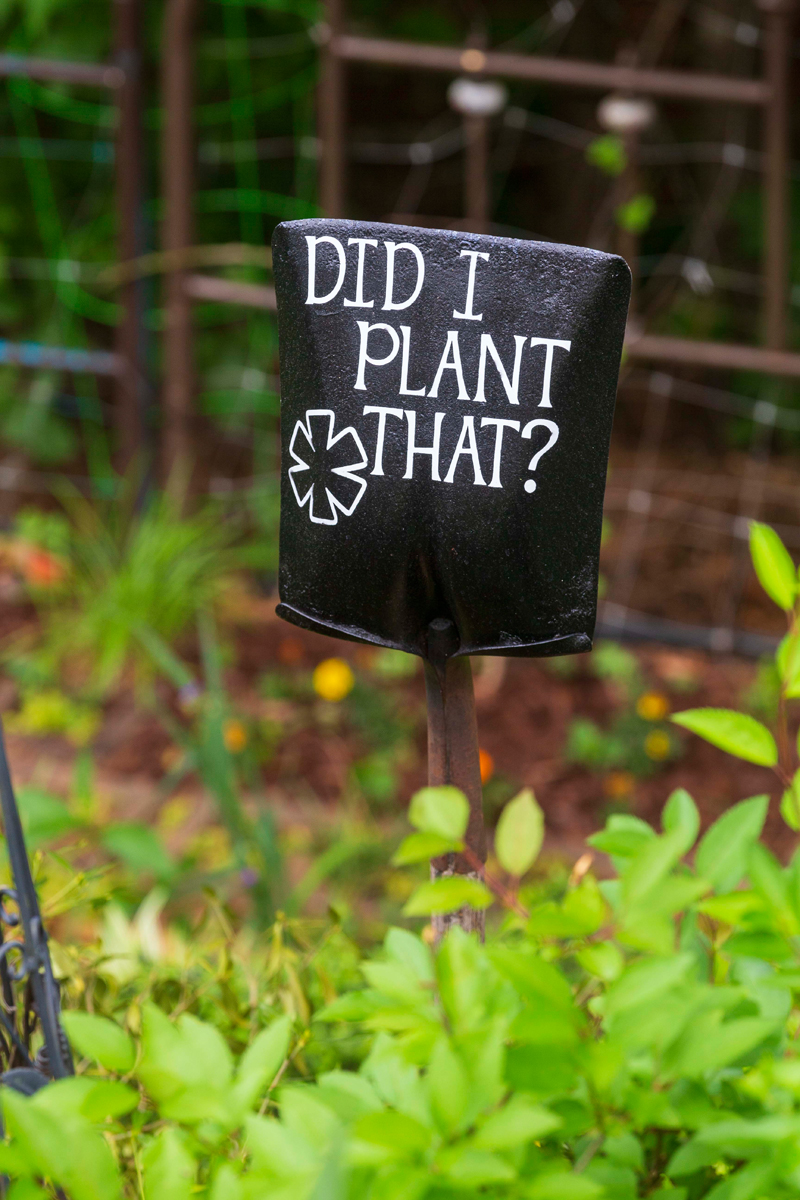 Wiltshire never had a garden before this one, but admits to liking "junky stuff" — vintage and repurposed objects — which became the centerpiece of her backyard metamorphosis. Vintage toolboxes house container gardens, painted bicycle wheels form a focal sculpture and other found objects mix with colorful plants to create decorative vignettes throughout the yard.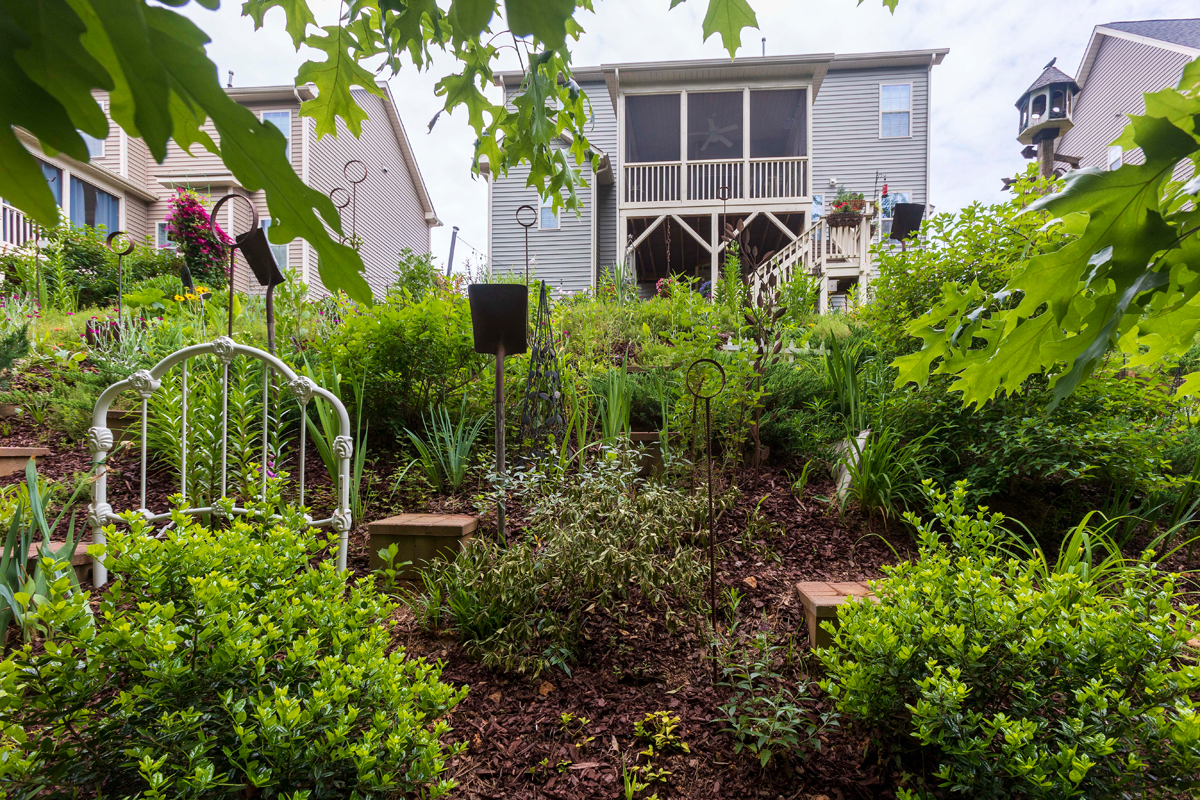 An unexpected surprise looms at the edge of Wiltshire's grassy lawn — she's transformed a steeply sloping hill into a near-vertical garden, turning what would be a scraggly natural area into a lively refuge.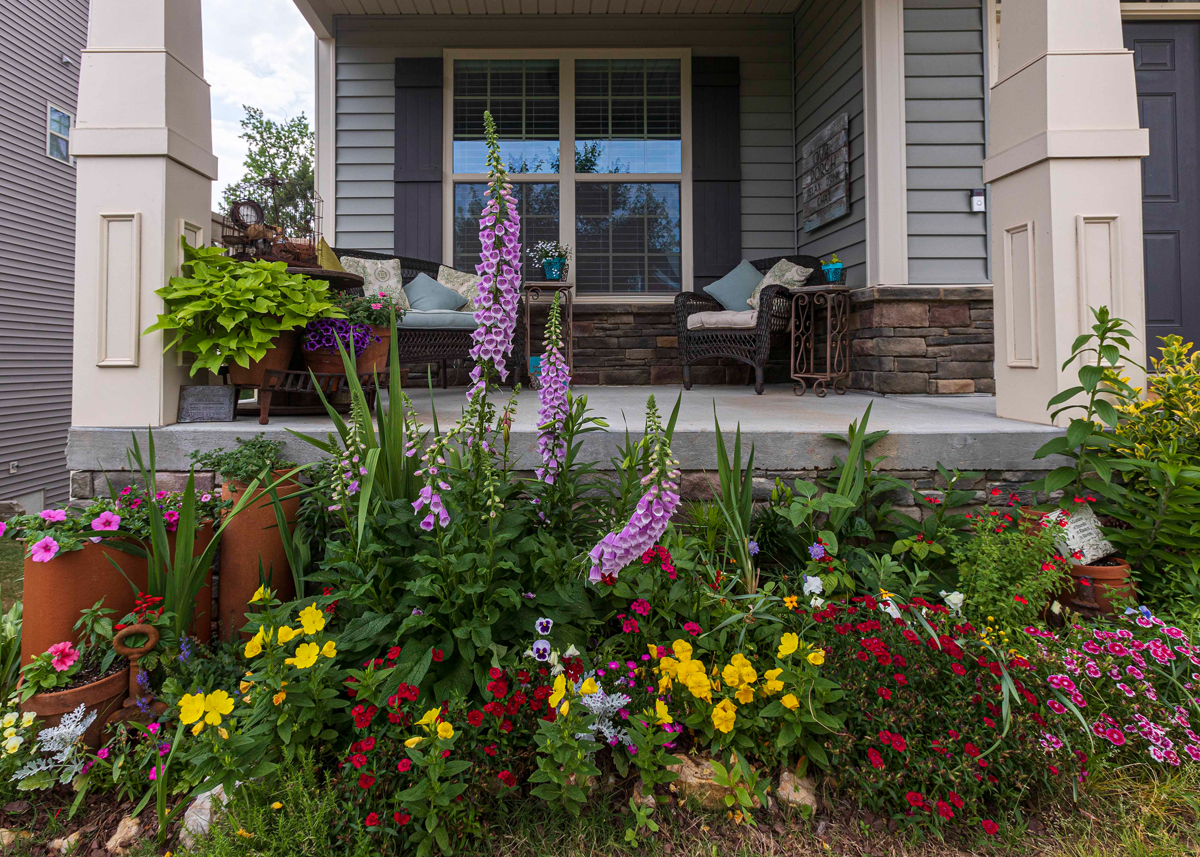 Begin Anywhere, Anytime.
"I never planted a plant before I came here," Wiltshire admits. Her home office window looks into her backyard, so she decided to make over the blank-slate new-construction yard with color and whimsy.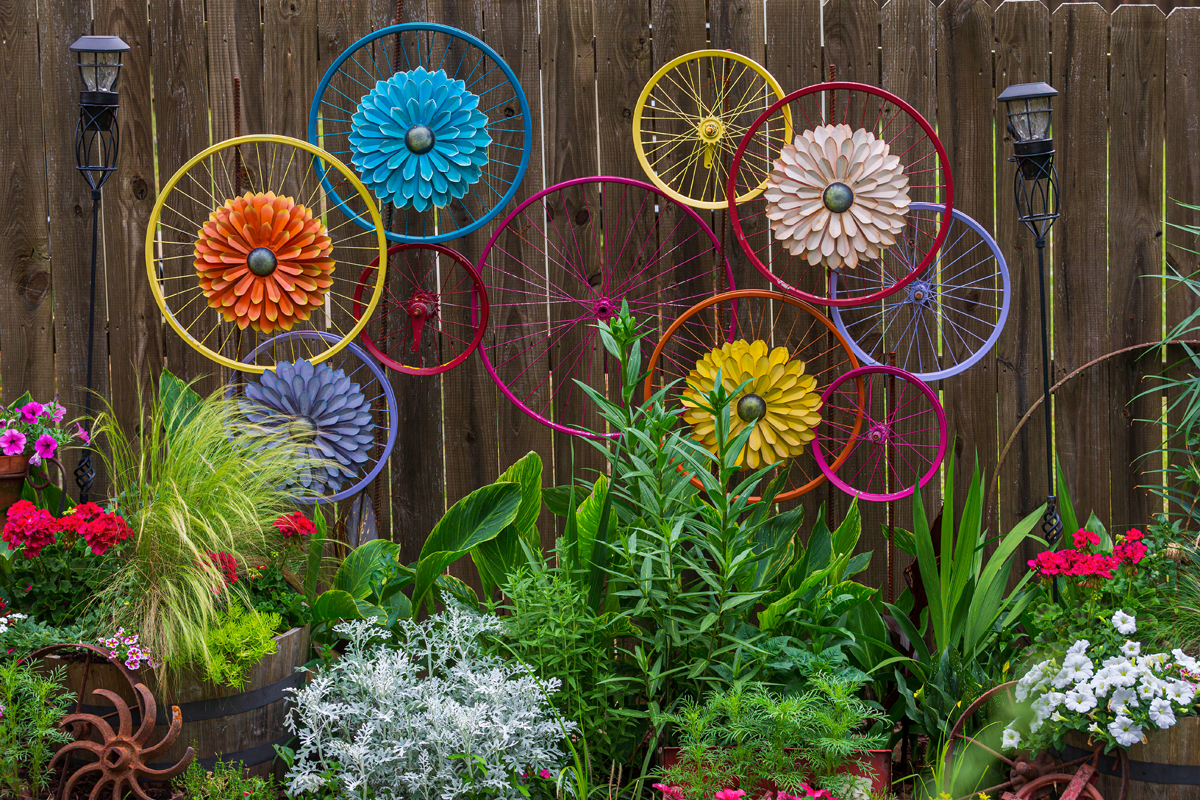 Pots are Tops.
Container gardens make easy training wheels for gardening beginners. Then, scatter those containers amongst in-ground beds for a layered look. Get creative when sourcing pots — Wiltshire uses old watering cans, galvanized tubs, tool boxes and rustic urns.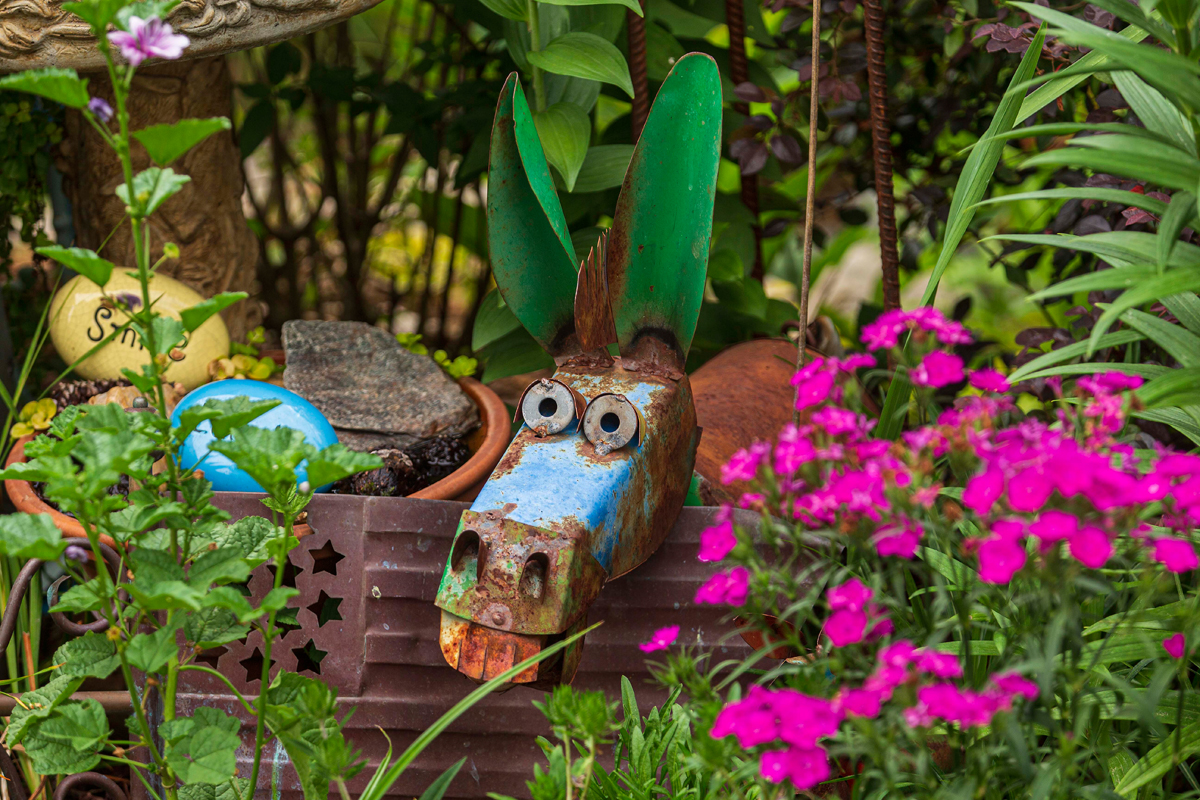 Have Fun.
I haven't got a clue what plants are called," Wiltshire says. "I buy it and stick it in the yard." To emphasize her casual approach, Wiltshire displayed shovels with lighthearted messages such as, "No idea," "Did I plant that," and "Pretty," in lieu of botanical labels during the garden tour.
Follow The Fuquay-Varina Garden Club on Facebook for updates about next year's tour