We're surrounded by superheros, y'all. Every day, members of the community are pouring their hearts, hard work and social-media savvy into furthering their passions. Each of these ladies is fighting fiercely for her cause and making southern Wake the richer for it.
Laura Fahnestock
Chief of Police, Town of Fuquay-Varina
Written by Emily Uhland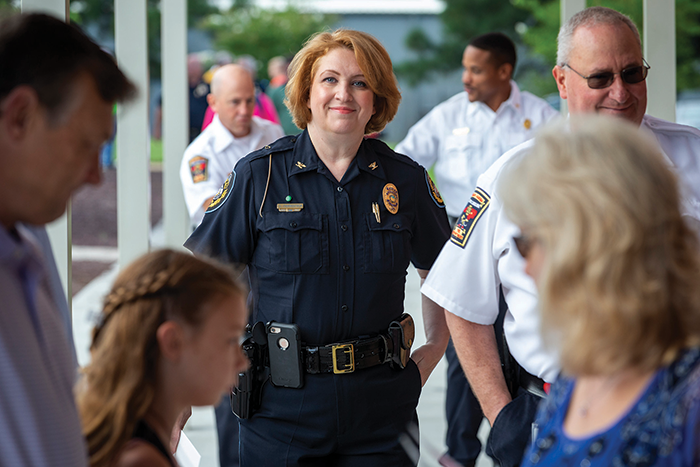 Police Chief Laura Fahnestock takes her job very seriously. As the first female lieutenant and captain in the Rocky Mount Police Department, then the first female chief of police in Fuquay-Varina, she's had to.
"There will always be those that say you can't do it. I don't let that hinder my growth," Fahnestock says. "I never let gender impact my actions. I wanted to be the best law enforcement officer I could be."
Day in the Life
Main & Broad tries to keep up with chief Fahnestock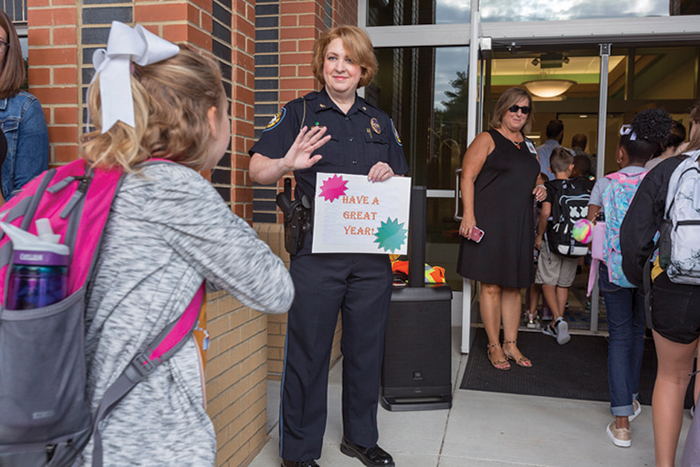 7:45 am
Welcoming students back to school at Lincoln Heights Elementary School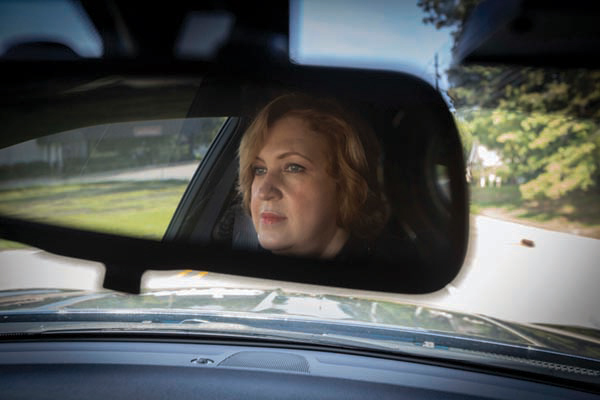 8:50 a.m.
Patrolling in the squad car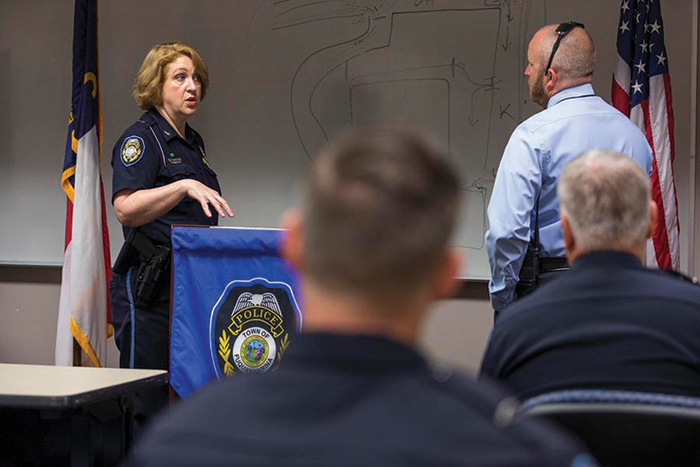 10:00 a.m.
Meeting with police department staff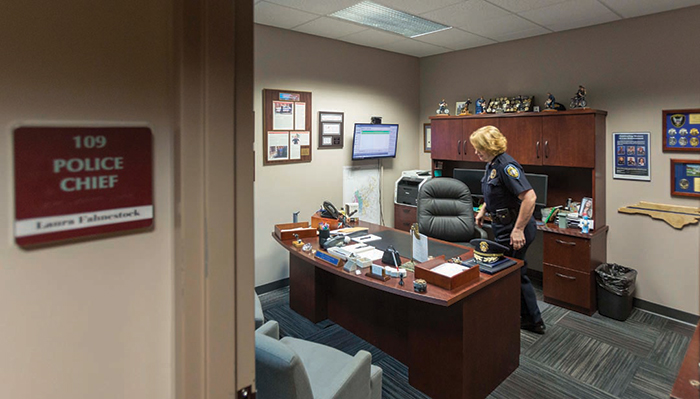 11:00 a.m.
Back in the office for answering emails and reading reports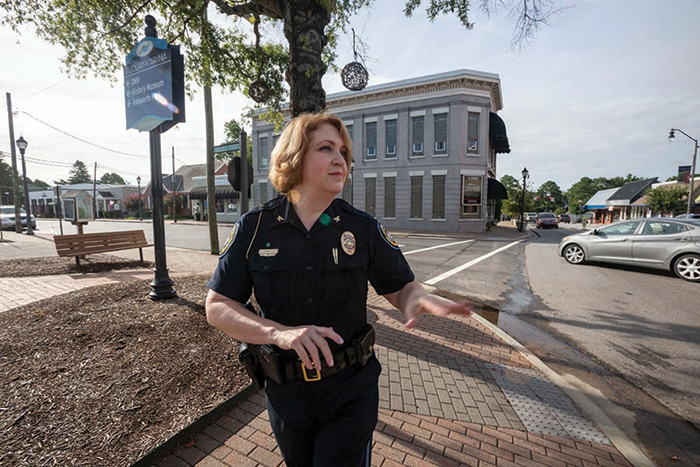 1:00 p.m.
Walking the downtown streets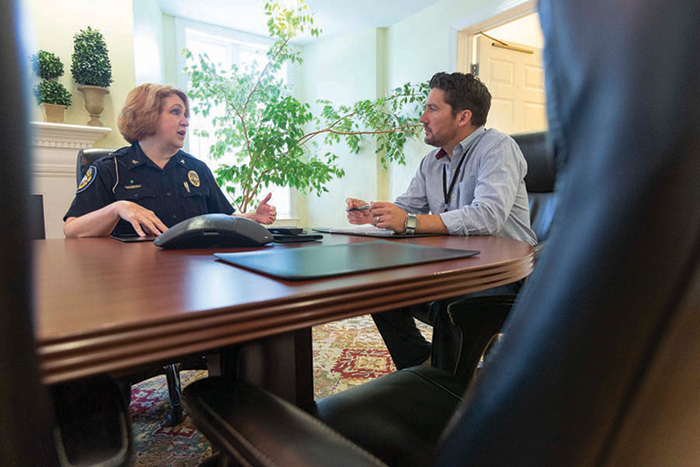 2:00 p.m.
Meeting with town manager Adam Mitchell at town hall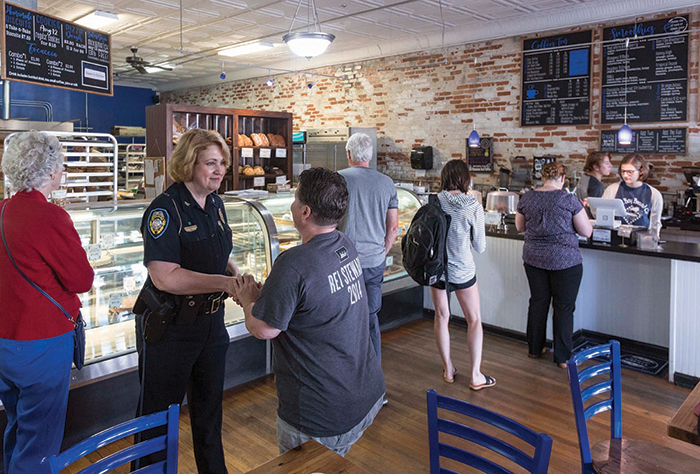 2:30 p.m.
Chatting with members of the community at Stick Boy Bread Company

During her 24-year tenure with the Rocky Mount PD, then police chief and mentor Joe Brown identified Fahnestock's natural ability to lead, and from there the goal was set. Fahnestock volunteered for challenging assignments, sought leadership opportunities, counseled with mentors, wrote grants and earned her masters degree, all while keeping her sights on the goal of one day becoming a chief of police.
When the opportunity came available in Fuquay-Varina, Fahnestock knew it was where she wanted to be.
"Coming here, and seeing the opportunities that I could have here; meeting the men and women of the Fuquay-Varina police department; I was excited for the opportunity," she says.
Fahnestock is a Raleigh native. Her father was a captain in the Raleigh Police Department. For Chief Laura — as she's affectionately known in southern Wake — returning to Wake County felt like coming home.
"I think of myself as the mom of Fuquay-Varina. I truly care about the community and have a passion for law enforcement."
Despite the serious dedication police work requires, Fahnestock isn't closed off behind an intimidating facade.
"I try to be open, with a sense of humor. My officers know I understand what it's like to work a patrol beat. I want to be transparent and accessible to the community," she says.
Fahnestock makes a point to be out in the Fuquay-Varina area at events, visiting businesses and patrolling the streets. Outreach is a huge focus for the department, which frequently holds events like coffee with a cop, fro-yo with the po-po and barbershop rap sessions.
"We want to remove barriers, build trust and enhance communication. I don't want a person's first contact with the police to be an emergency situation," she says.
Part of those efforts for transparency include the F-V police department's 15,000-follower-strong Facebook page, which Fahnestock runs herself.
"I saw (Facebook) as an opportunity to share our story. Much of the narrative around the country was negative, so this was one way to reach people," Fahnestock says.
"We use humor to teach and be approachable," she says, examples include the ubiquitous #9PM Routine memes, some of which Fahnestock creates herself; some she borrows from other departments.
"There are also moments when we have to share crimes and be transparent," she says. "We are the most effective when the community is working with us."
From 2016 to 2017 Fuquay-Varina experienced a 46% decrease in crime, including violent and property crimes. Fuquay is considered safer than 85% of the cities in North Carolina.*
"Not about me, it's about my team," she says, of the 57 men and women under her leadership in the police department. "We are successful together."
"I want the community to know to continue to work with us. Be our partners; part of the team.
We cannot do this alone," Fahnestock says.
"Success could be solving a crime, providing help to a victim, mentoring an officer or having a community meeting, but it ultimately comes down to integrity."
*Data derived from the 2017 FBI uniform crime reports.
Charlene Dunn
Business educator for Wake County Public Schools, owner of Infinity Educators LLC and organizer of the Holly Springs Children's Business Fair
Written by Emily Uhland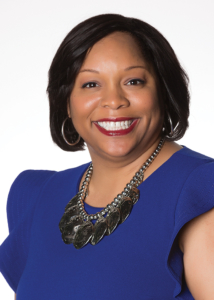 On a humid Saturday in early August, Charlene Dunn witnessed the fruition of her efforts as an educator, entrepreneur and mentor.
The Holly Springs Children's Business Fair — a one-day pop-up market and brainchild of Dunn and her company Infinity Educators — showcased youth-run businesses selling solar lights, 3D printed objects, artisan soaps and more. Businesses included those thought up and run by young people ages elementary through high school.
Dunn circulates through the tents, congratulating the "kidpreneurs" and listening to sales pitches.
"What really impresses me is the excitement (the young people) have about their product," Dunn says.
Dunn is a business education teacher at Holly Grove Middle School, a subject she has taught for 20 years.
"Middle school is that exploratory time for students. Being introduced to business and entrepreneurship concepts is a great idea," she says.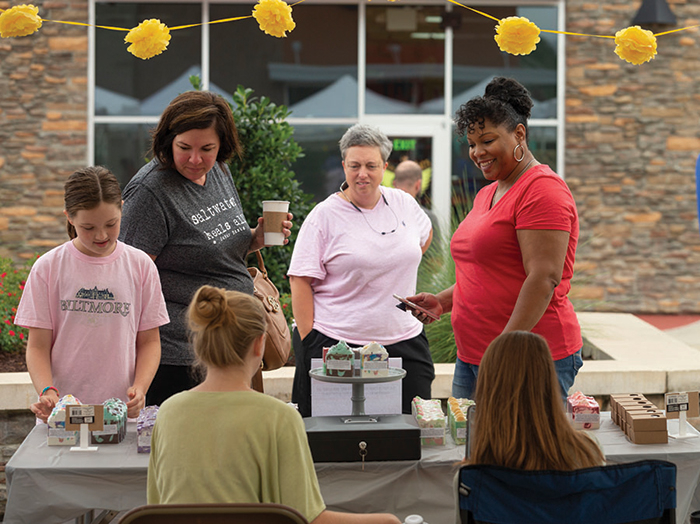 Dunn developed Infinity Educators after witnessing firsthand the financial challenges facing teachers and the lack of entrepreneurship education available for all ages. The company's dual mission to coach teachers and children in entrepreneurship touches both of Dunn's passions.
"My personal philosophy is to, 'Thrive at life that makes sense,' a life in which who I am, what I believe and what I do, all align. I am a teacher at heart, an entrepreneur in spirit and an educator by profession, and as an 'edupreneur,' my mission is to provide learning experiences that foster income, entrepreneurship and livelihood development," she says.
Dunn counsels that while four-year college might not be for everyone; entrepreneurship may be another path.
"I think children are taught to go to college and go work for somebody. Let's show them a different perspective: entrepreneurship. Show them early, and it might spark something in them to start their own business."
Infinity Educators plans to offer a series of programs covering topics like budgeting, marketing and web site design. The Holly Springs Children's Business Fair, provides a venue for fledgeling businesses to showcase what they've developed.
"It is the apex of everything," Dunn says.
As a teacher, Dunn already has a demanding schedule, but she made time to found Infinity Educators, in part, to serve as inspiration for her pupils.
"If I'm teaching it, I want to show it to the children. Let me be the example, so I can give you real life experience and feedback."
Meet the Kidpreneurs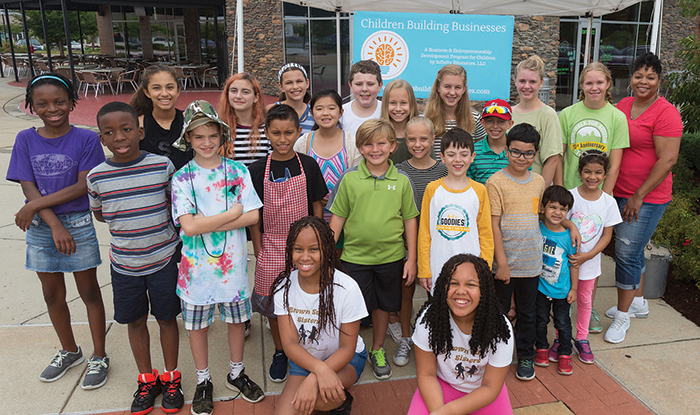 A selection of businesses from the 2019 Holly Springs Children's Business Fair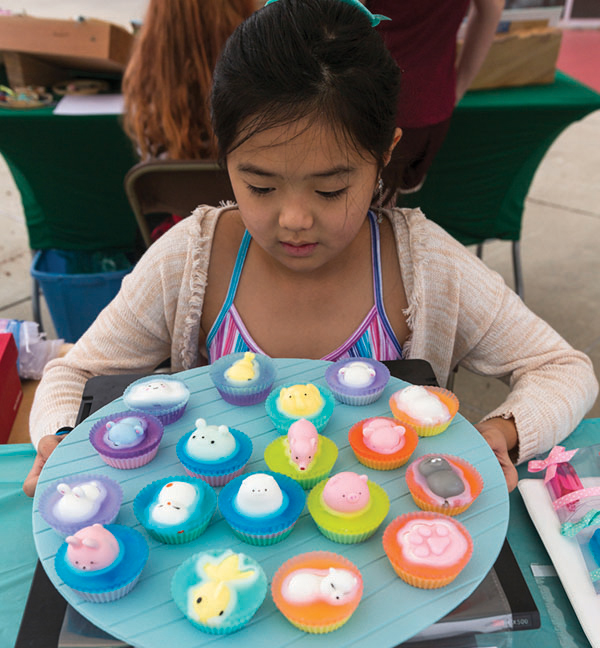 Kira's Rainbow Crafts
Owner: Kira Wiguna
Colorful molded soaps
"It takes about half an hour to make 10."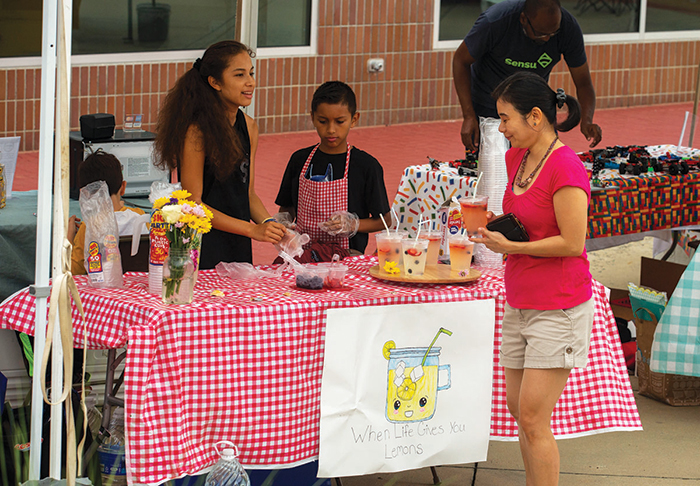 When Life Gives You Lemons
Owners: Juleysi and Rahonel Rosario
Infused lemonade
"We like working together and making money."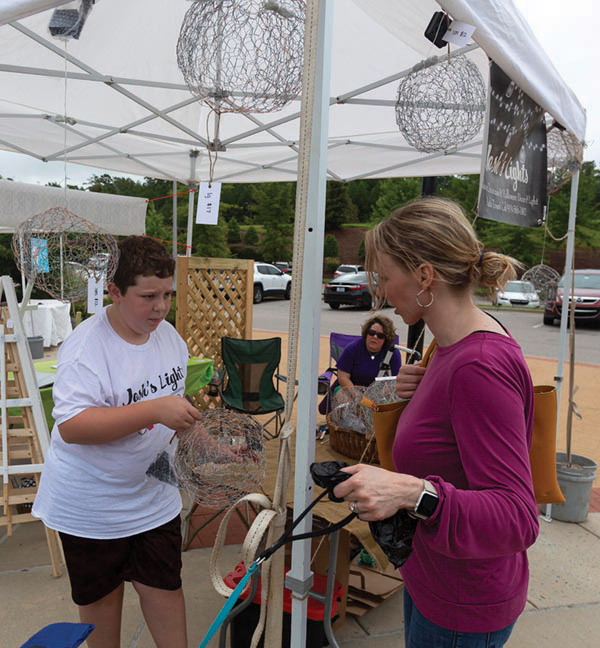 Josh's Lights
Owner: Josh Sutton
Solar powered light ball decorations
"Teaches you something that you can do like an adult."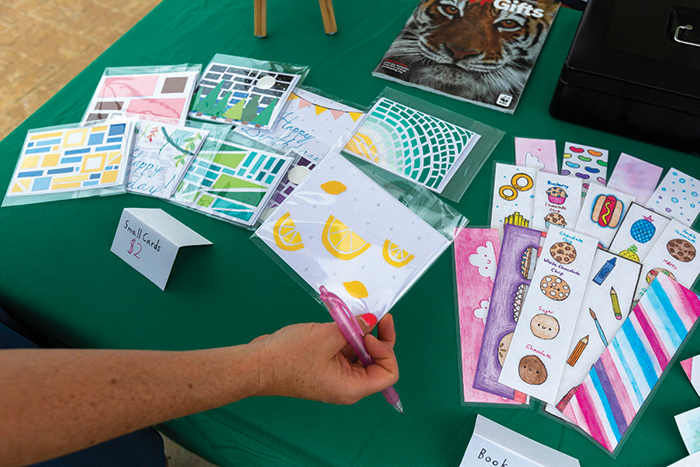 Ink Inc.
Owner: Sammy Albertin
Bookmarks, cards and paper crafts made with leftover paint chips.
"My proceeds go to the World Wildlife Fund. They raise money for conservation."
Tracy Watson
Owner, Go Watson Realty, Big Monkey Renovations
Chairman of the Board, Military Missions in Action
Written by Emily Uhland
"When people think of me, I want them to think of the military and MMIA," says Tracy Watson, Fuquay-Varina resident, business owner, philanthropist and all-around community spokesperson.
Her dedication to the armed forces runs deep.
"I've been a child, wife, sister and now a military mom," she says.
"When I was thinking about what to get involved in, I had to think about what was important to me. The more I got involved, the more it touched my heart."
Watson has volunteered with Fuquay's Military Missions in Action for six years collecting donations, planning fundraisers, securing sponsors and spreading the word about this 12-year-old hometown nonprofit.
Currently, she serves as chairman of the board with a clear mission to raise awareness in the Fuquay community about MMIA.
"We've been recognized by the president of the United States," says Mike Dorman, executive director and founder of MMIA. "Yet only 10% of the community knows we're here. Tracy goes above and beyond bringing awareness to the organization so that more people know about us and more people can get involved."
Watson utilizes social media and her widespread personal network to get the word out and encourage new volunteers.
Last year, Watson introduced a new benefit event, Cars and Jars, held at Mason Jar Lager Company, which attracted unique cars and beer-lovers alike in support of MMIA's programs.
MMIA = Military Missions in Action
A Fuquay-Varina-based non-profit serving the military community of N.C. with donations of supplies and furniture, and home renovation projects.

"The first year you don't know what to expect. I said I'd be happy if we got 50 people, and we ended up with 100," Watson says.
The event raised $10,000 with a silent auction, sponsorships, 50/50 raffle and community donations. The second Cars and Jars is scheduled for Nov. 3, again at Mason Jar Lager company.
"I get to drink beer; I get to look at cars; and I get to raise money for MMIA. It's a trifecta of awesomeness," she says.
Watson carries her passion for the military into her real estate business, Go Watson Realty. She offers a 20% commission rebate program for anyone that has served in the military, as well as nurses, teachers and first responders.
"Over the last three years, I've given back $35,000 so far. It's another way of thanking all of those people for what they are doing daily," Watson says.
Social Superstar
Number of contacts in phone: 415
Favorite social media app: Instagram
Favorite Spot to meet for drinks: Mason Jar Tavern or Vicious Fishes
Number of Facebook friends: 1,626
Number of unread emails: 6,951
Covers four different accounts — business and personal.
In a (friendly) wrestling match, which branch of the armed forces would win? Marines
You're gonna get me in trouble with this one. I can have everyone else mad at me, but not my daddy.

Watson received Best Realtor honors from Indy Week (2019) and Suburban Living magazine (2018), which inspired her to start a video series called Fuquay Feature Fridays.
Every friday she posts a one-minute video to her Facebook page highlighting a fellow Fuquay-Varina business.
"It's a way to let new residents know what's here," she says.
"It's a really tight network of people who own small businesses in Fuquay. We all support and know each other."
One of her recent features was her husband Jared, aka Monkey, Watson, with whom she owns Big Monkey Renovation & Repair. Watson credits Jared for being her biggest cheerleader and always encouraging her to pursue her passions.
"With all of my clients, I want to know, 'What's your goal?' That becomes my mission — to help you reach your goal, your dream," Watson says.
As a child of the military, Watson moved frequently during her childhood. Happily, she's put down roots in Fuquay-Varina and doesn't plan to ever leave.
"This is the longest I've ever lived in a place. This is my home."
Erin O'Loughlin
President and founder, 3 Bluebirds Farm
Written by Marine Elia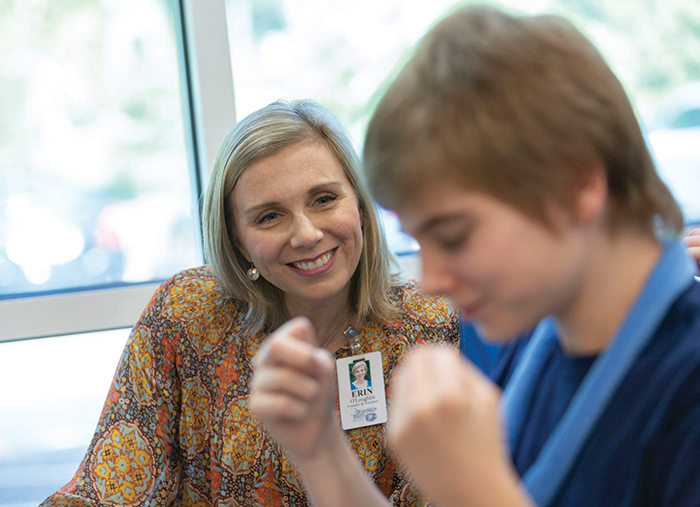 When Erin O'Loughlin's son Marcus was diagnosed with autism, she knew he would need assistance for the rest of his life. With her husband, she began researching possibilities for her son's future.
"We were getting worried. We started looking further down the line as to what's going to happen when we're no longer there," O'Loughlin said. "We realized there's just not a lot of options out there for adults with autism."
Kid at heart
Favorite children's book: Charlotte's Web
I think I read it at least 30 times as a child, maybe more.
Favorite ice cream flavor: Coffee!
Favorite breakfast cereal: Honey Bunches of Oats mixed with Grape-Nuts
I know, I'm weird.
Favorite Disney movie: Moana
I love the strong woman represented and the music.
Favorite local park: Crowder Park

O'Loughlin knew she had to take action. With a career in marketing and fundraising for nonprofits, it was time to fight for her own cause. After visiting several residential communities across the country, she established what would eventually become 3 Bluebirds Farm in 2012.
"I've always been a social activist by nature," O'Loughlin said. "I knew that if we were struggling, then other people were, too. I realized quickly after I founded the organization that this is no longer about my son. This is about the population of people living with autism and their families."
As its long-term mission, the nonprofit plans to establish a self-sustaining, residential farming community for autistic adults. The goal is to offer a home and meaningful work to 20 residents and full-time caregivers.
While O'Loughlin and her team work towards making that dream a reality, the nonprofit's focus rests on its child and teen programs. Both Camp Bluebird, a track-out and summer program for autistic children, and the Take Flight Club for teenagers, are based in Holly Springs.
Government services that help families of children with autism come to a screeching halt once the individual turns 22. The cut-off age, or what O'Loughlin refers to as "the cliff," often destabilizes the lives of these young adults.
"There's a million-and-one services for children, but you don't grow out of autism," O'Loughlin said.
O'Loughlin wrote a children's book called "The Bluebird Dance," about a family of bluebirds searching to be independent yet remain together. Proceeds from the purchase of the book go towards 3 Bluebirds Farm. Available on Amazon.

She says it's also important to understand that autism affects individuals differently and to varying degrees. Some individuals are able to live independently, while others need lifelong assistance.
"I love the beautiful stories of the high-functioning adults with autism who overcome obstacles and go to school and get a job. They should be celebrated," she said. "But we also need to tell the stories about the 210-pound adults with autism living with their parents who are non-verbal, not toilet trained, and aggressive. Tons of those families exist."
Beyond the residential aspect of the farm, O'Loughlin is hard at work planning the infinite possibilities to keep it self-sustaining. Microbusinesses would include a collaboration with local farm-to-table restaurants to provide produce and a coffee shop where residents could sell their artwork.
"Bluebirds represent happiness and peace and hope," said O'Loughlin, a lifelong bird lover. "The nest represents a home and the eggs represent hope. We're creating a home for those who need it."