You'll smell wood fired pizzas, fresh empanadas and Indian butter chicken. You'll hear a DJ on the turntable, laughter between friends and the continuous chatter of food ordering. You'll see more than 20 small businesses working hard to serve, and customers enjoying every minute of it.
Drive Time
From Holly Springs
: 25 minutes
From Fuquay-Varina: 30 minutes

In short, you'll find "sensory overload," says Niall Handley, the mastermind behind the Hibernian Hospitality Group's Morgan Street Food Hall, located in downtown Raleigh.
Handley is from Ireland and has long borne witness to Europe's bustling food halls and markets selling fresh, quality foods at all hours of the day, from which he took inspiration for MSFH.
"If you consider older European markets, … You are looking everywhere. You can't decide what you want to eat. There are sights, sounds, music," he says.
Ditto for Morgan Street Food Hall.
What's been the norm in Europe for many years is now taking the U.S. food scene by storm. Many large cities — New York, Denver, New Orleans and Boston to name a few — already boast thriving food halls.
Raleigh joined that list last August with the opening of MSFH, the first of its kind in N.C. Not long after followed Transfer Co. Food Hall, also in downtown Raleigh.
Handley expects halls to open in Charlotte in the near future as well. "You'll see more coming," he predicts.
Variety
Food halls' main draw, Handley says, is the abundant variety offered all in one place.
Eat, Drink & Be Merry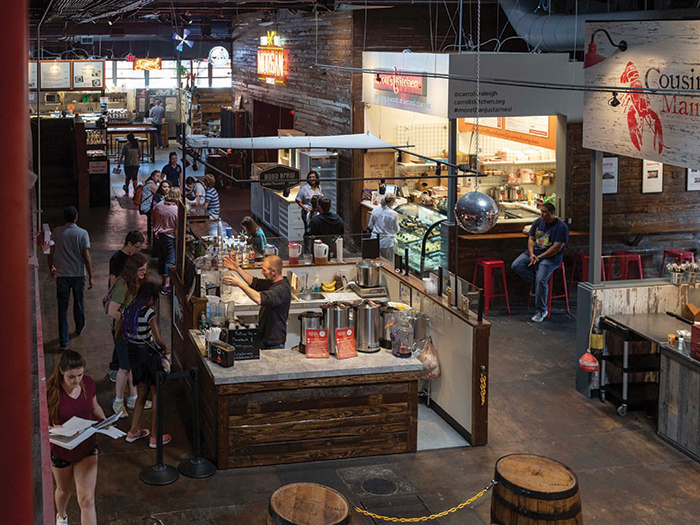 Bad Cat Coffee, Crepes & Bagels
Locally roasted coffee, made-to-order crepes.
Bella's Wood Fired Pizza & Tapas
Wood fired pizza with seasonal small plates.
Boba Brew
Bubble teas and smoothies.
Carroll's Kitchen
Sandwiches, salads and signature kolache; providing employment for women leaving crisis.
Cousins Maine Lobster
Lobster tots. Lobster tacos. Authentic from Maine.
Cow Bar
Bold burgers and fries. Crowd favorite: the truffle burger.
Curry in a Hurry
Indian cuisine inspired by family recipes.
Iyla's Southern Kitchen
Creative twist on Southern comfort. Hot chicken mac & cheese bowl, anyone?
Makus Empanadas
Authentic taste of Argentina.
Mama Bird's Cookies + Cream
Small batch, hand-crafted ice creams.
MKG Kitchen
Vietnamese vermicelli bowls, summer rolls and rice platters.
Oak City Fish and Chips
Fried seafood perfection from a seventh generation Raleighite.
Raleigh Rolls
Thai ice cream rolled right before your eyes.
Sassool
Well-known Triangle favorite serving Lebanese & mediterranean cuisine.
The Bowls
Asian-inspired rice bowls.
The Broth
Japanese style ramen fit for slurping.
Wicked Taco
Tortillas and salsas made fresh daily.
YoHo Hibachi & Sushi Burrito
Asian favorites and sushi served burrito style.
*This list represents MSFH restaurants. There are also retail stalls selling artisan food products, flowers, teas, candles and more.

"Diners want a lot of choice and a quicker turnaround. I definitely think that foods halls are the way of the future in regards to how dining is going to work," Handley says.
Morgan Street Food Hall boasts nearly 20 restaurant vendors, each with its own unique cuisine, and an indoor/outdoor bar in the middle of it all.
"Your whole family can come here, and you don't have to eat the same thing," says Melinda Jackson, who manages public relations for MSFH. "You are going all around the world when you come to a food hall. Indian, pizza and Vietnamese are all right next to each other."
Unlike shopping mall food courts, the vendors inside MSFH have local roots.
"A lot of these places were food trucks, and this is their brick and mortar. Their whole family is working here," says Jackson.
Local favorites Curry in a Hurry, Makus Empanadas, Sassool and Carroll's Kitchen occupy stalls at MSFH. You can even finish out your meal with Holly Springs' own Mama Bird's Cookies + Cream.
"We wanted (the vendors) to be local or locally owned. … It's about showcasing what Raleigh and the area has to offer," says Handley.
In addition to the dining vendors, MSFH is home to several retail stalls, selling everything from fresh flowers to loose leaf teas to chocolate-covered cheesecake.
"It's a one-stop shop to support local businesses," says Jackson.
Community
Doors open at 7:00 a.m., and the crowds peak during lunch and on weekends. There are communal tables throughout the hall and on the patio. During the busiest times, expect to share a table with other diners.
"Food halls across the world are a place about community," says Jackson, who became acquainted with food halls while living and working in Los Angeles.
"There's constantly something new when you come here. We're always adding more activities to bring people together," she says.
Pop up workouts on Saturday mornings (with a mimosa bucket included) are popular and sell out weekly. Family-friendly dance parties, stand-up comedy and trivia nights are all in the works.
"It's a great gathering place," says Kevin Caligan, manager at Cow Bar, the hall's artisan burger joint. "You'll see business meetings, parties, even school groups," he says.
Innovation
Ramy Bahgat, owner and partner at MSFH's Raleigh Rolls, loves the bustling, joyful atmosphere found there, but as a first time business owner, his interest in the venture was strategic as well.
"This is a new trend coming to the South. We knew it was going to have a really good turnout," he says. "It comes with a very low cost of opening a business here. Most of the chefs haven't owned their own business before, and the low cost makes a huge difference."
Handley agrees: "As cities grow and become more expensive to do business in, (food halls) are a good opportunity for smaller businesses to get in without some of the huge million dollar upfit costs to open new kitchens."
Lower overhead means more resources can be devoted to creativity and innovation. On the horizon for Raleigh Rolls is a bubble waffle, a take on the Korean dessert trend, which will enfold their signature rolled ice cream in a waffle that has bubbles of fresh fruit and chocolate all over it. Lobster ice cream, a collaboration with Cousins Maine Lobster, also a MSFH vendor, is also in the works.
Cow Bar veers from its meat-loving roots to offer a vegetarian burger made with kidney beans and zucchini. One-of-a kind kimchi french fries are another unique offering.
"Management really gives you freedom to create and experiment," says Bahgat.
Coming soon to the hall is Aunty Betty's gin and absinthe bar, a brain child of Handley and mixologist Greg Ewan of Raleigh's Watts and Ward. Named for Handley's 90-year-old aunt — "she's partial to a little tipple of gin" — the gin joint will showcase unique liquors, craft cocktails and flavored artisan tonics, such as elderflower tonic.
"We are excited to explore, to show people what can be done," says Handley.
Fun
When asked about the vibe he wanted to create, Handley answers, "Primarily fun."
You can't argue with that. With the food plentiful, the drinks flowing and everyone able to order their favorite cuisine, MSFH is the ultimate destination for food lovers.
"It's like a carnival without the rides," says Johnathan Rogers, a cook at Cow Bar. "There are so many folks here in different walks of life, and everybody gets along."
"It's very modern and trendy," says Sierra Pendergrass, employee at Vietnamese restaurant MKG Kitchen. "Everybody comes here and Instagrams all their food."
Maybe … if you can bear to wait before digging in.
Morgan Street Food Hall
411 West Morgan St. Raleigh
(919) 307-4481
Morganstreetfoodhall.com