Now that the weather is cooling down, festivals and events in Wake County are in full swing. From BugFest at the North Carolina Museum of Natural Sciences on Sept. 16 to the Downtown Cary Fall Festival on Sept. 23, it is sure to be a September to remember. Feeling the itch to get out of town? Early fall is also the perfect season for road tripping, and if you can find the perfect festival, fair, or event, there are no wrong turns.  
Check out our list of festivals and activities that are 100% worth the drive.  
Hillsborough Hog Day  
Sept. 15-16 
This two-day event, located at River Park in Hillsborough, is completely free and features a BBQ cook-off, craft vendors, the Hog Day 5K, a classic car show, and a children's area. Click here to learn more! 
Durham CenterFest 
Sept. 16-17 
CenterFest is Durham's largest cultural and community event, as well as North Carolina's longest running street art festival. This event features musicians, dancers, street performers, a Creative Kids Zone, food vendors, and tons of visual art. This is a free event, but a $5 donation is requested. 
Mayberry Days 
Sept. 18-24 
Just over two hours away sits the town of Mount Airy, hometown of Andy Griffith. Fans of The Andy Griffith Show won't want to miss Mayberry Days, a family-friendly festival with activities and events for the fans who long for the days when life was simple. Enjoy an ice-cold soda while playing checkers, relax to music from many local bands playing the same songs that Andy grew up with and performed, and much more! For tickets and a schedule of events, click here. 
Yadkin Valley Pumpkin Festival 
Sept. 23 
The annual Yadkin Valley Pumpkin Festival is held in historic downtown Elkin the fourth Saturday in September. Festivities begin Saturday morning with the annual Great Pumpkin Weigh-Off, one of the most famous pumpkin contests east of the Mississippi. Previous winners have weighed in at more than 1,500 pounds! Meanwhile, the daylong festival fills nearby Main Street with arts and craft vendors, festival food, live music, a dunking booth, and a kids zone. 
Benson Mule Days 
Sept. 21-24 
 The Town of Benson is only an hour away from the Triangle, but this event will make you feel like you're light-years from Wake County! Benson Mule Days, now in its seventh year, celebrates the role of the mule in rural life (yes, really). Mule-related events include a mule show, a mule race, Mules Got Talent, the Mule Day Parade, and more. In addition, there is a carnival, vendors, concerts, and rodeos. Admission is free, but bring some extra cash for fun activities.  
International Folk Festival, Fayetteville 
Sept. 22-24 
 Mules aren't your scene? Head over to Fayetteville for the 45th International Folk Festival, featuring fantastic food, breathtaking performances, and a vibrant parade. Learn about cultures from all over the world, and don't miss the hot air balloon rides at 5 p.m.!  The event is free to the public, but attendees can purchase a Taste of the World voucher for $20 here! 
Carolina Classic Fair, Winston-Salem 
Sept. 29-Oct. 8 
 Can't wait until the state fair in October? Why not hit up the Carolina Classic Fair in Winston-Salem and get your fair fix a bit early! From rides, fair food, exhibits, and nightly fireworks, this is an event the whole family will enjoy. 
Carrboro Music Festival 
Oct. 1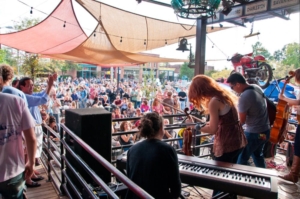 Yes, this one is technically in October, but music lovers will NOT want to miss the Carrboro Music Festival, featuring 100 local and regional bands and performers in several locations in Carrboro. This is a free event, but please tip the musicians!