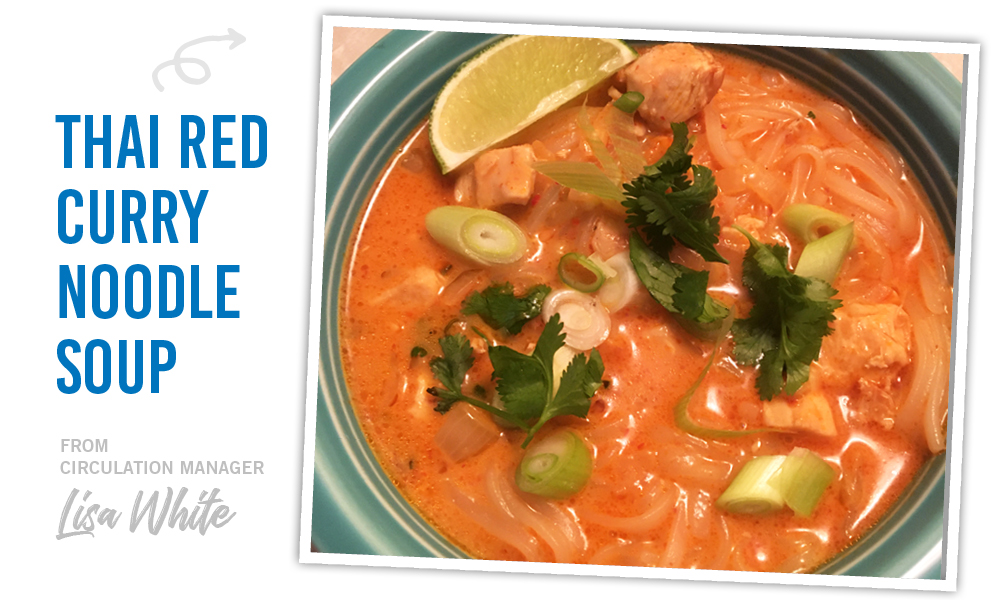 Thai Red Curry Noodle Soup
"Continuing our quarantine flavor experiment — we went to Thailand with this Thai Red Curry Noodle Soup. This was really easy and so delicious!" – Lisa White, Circulation Manager
Recipe by Damn Delicious: https://damndelicious.net/2018/04/18/thai-red-curry-noodle-soup/

DoubleTree by Hilton Chocolate Chip Cookies
"The hotel just released this previously secret recipe a few days ago. Let's just say these cookies are to die for, but they are 300 calories each, so don't eat more than one or two in a single sitting." – David McCreary, Contributing Writer
Recipe by Doubletree by Hilton: https://newsroom.hilton.com/static-doubletree-reveals-cookie-recipe.htm

Homemade Pesto
"I don't measure any of the ingredients and it comes out great every time, so no pressure to get it perfect!" – Alexandra Blazevich, Staff Writer
Pesto: 
2 cups of packed basil (fresh from the garden is best)
2 small cloves of garlic or one larger one
1/2 cup of parmesan cheese
1/8 cup of pine nuts (optional)
Salt and pepper to taste
Extra virgin olive oil (amount of oil is based on preference; I prefer drier pesto)
Instructions:
Blend all ingredients until you get your desired texture. I like mine more coarse, but some like it to be extra creamy.
Enjoy with your favorite pasta, on crusty bread or as a salad dressing. 
Pumpkin Chocolate Chip Bread
"This quarantine has been an opportunity to take stock of what we already have and to clean out my pantry. I bought lots of canned pumpkin last fall for pies, but since my kids don't like winter spices as much as I do, I had many cans of pumpkin left. This recipe is a variation on my banana bread and everyone loves it. It's decadent and tastes like dessert, but it's full of vitamins and fiber." – Amber Keister, Senior Editor, Cary Magazine
Pumpkin Chocolate Chip Bread
2 cups unbleached all-purpose flour
2 cups white wheat flour, King Arthur brand is recommended
3 Tsp baking powder
½ tsp. baking soda
1 Tsp. salt
2 cups cooked, pureed pumpkin or 1 15-ounce can pumpkin
¾ cup sugar
¾ cup brown sugar
4 eggs
2/3 cup buttermilk
2 tsp. Vanilla
Zest of 1 orange
1 cup oil
1 cup chocolate chips
Instructions:
Preheat oven to 350 F degrees. Butter generously two 8X4inch loaf pans. 
Combine flours, baking powder, soda and salt in a large bowl. Stir well.
Combine pumpkin, sugars, eggs, buttermilk, vanilla, orange zest and oil in a high-speed blender or in the bowl of an electric mixer. Combine wet and dry ingredients. Fold in chocolate chips. Pour into pans.
Bake 55-60 minutes or until a wooden toothpick inserted in the center comes out clean. Cool in pan 5 minutes. Remove from pans and finish cooling on a wire rack.
Makes 2 loaves.