In an effort to bring a little bit of life to our lifestyle magazine, we thought we'd share some fun tidbits about Main & Broad Senior Editor Emily Uhland. If you'd like to learn more about Uhland's career, feel free to visit our about page — but if you are interested in what makes her tick (and who she thinks would win in  Holly Springs/Fuquay-Varina street fight), read on!
Introduce yourself!
Hey y'all. I'm Emily Uhland, Senior Editor of Main & Broad. I have a unique background in that I started out in publishing as a graphic designer, then added on writing and editing roles. I serve as creative director, graphic designer, writer, and editor for Main & Broad and occasionally contribute to some of Cherokee Media Group's other publications. 
I grew up in Raleigh and made it as far as Chapel Hill for college. I am married to my wonderful husband, Mike, and we have two daughters, Evie and Juliet. 
Favorite issue of Main & Broad?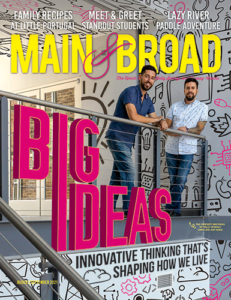 This is so hard! My favorite issue is always the newest one because there are so many great stories to tell each time. Some all-time standouts are August/September 2021, our "Big Ideas" issue. We focused on what we called "Innovative thinking that's changing how we live," by speaking with the COO of the new hospital, local entrepreneurs and thought leaders who are shaping a unique way of life in Southern Wake. I'm really proud of the overall concept and all the work that went into this edition by the entire team.
Another great one was June/July 2020, which I called "Small Town, Big Heart." We were just getting started on this issue when the world shut down for the pandemic. I spent a few days modeling a deer caught in headlights wondering how we could possibly create a magazine. But it ultimately gave us the opportunity to showcase how the community rallied to support each other. And we threw in some lighthearted articles for a much-needed dose of fun.
If you could only eat one meal for the rest of your life, what would it be?
I always say I could eat a cheeseburger every day of my life and be happy, so I guess that's the winner. It needs to be a gourmet burger, though, with guacamole or pimento cheese or onion straws or all of the delicious toppings. 
Best thing about your job?
Getting to meet so many interesting people and learn their stories and share their passions with the community. And it forces me to explore where we live and learn about all the fun places to go and things to do, and then I get to turn around and enjoy them with my family!  
And sometimes we get free food from the restaurants we're covering — PERKS. 
It's a great job. 
If you could live anywhere, where would it be?
I love living in Wake County — it would take a lot to get me to leave the community we have here. But my second choice would be Colorado. We've vacationed there several times, and it is breathtaking. 
Proudest accomplishment?
Probably creating Main & Broad back in 2018. I was given a lot of freedom by our publisher, Kris Schultz, to get it up and running. It's been so fun and rewarding to watch it grow. 
Name one weird fact or tidbit about you?
I met my husband in Hinton-James dorm at UNC-Chapel Hill as a freshman. My parents also met at Hinton-James dorm at UNC-Chapel Hill as freshmen. 
If Holly Springs/Fuquay-Varina/Apex got into a street fight, who would win?
Definitely Fuquay. If one Fuquay citizen is out brawling in the street, then you better believe the whole town's got his back. Fuquay loves to support each other.