Juneteenth, also known as Emancipation Day, is an annual event commemorating the end of slavery in the United States. 
It marks the day — June 19, 1865 — when Union General Gordon Granger read federal orders in Galveston, Texas, announcing that all enslaved people were free. Although the Emancipation Proclamation had been signed nearly two and a half years earlier and the Civil War had been over for months, news and enforcement of the proclamation had been slow and inconsistent. 
The day has been celebrated by African Americans since the late 1800s, and today, many area communities are observing the day with festive events. 
Holly Springs
Hidden Figures 
Monday, June 19 
Celebrate Juneteenth at the Holly Springs Cultural Center with a free showing of Hidden Figures, starting at 6:30 p.m. This free showing will also include an introductory exhibit from the Holly Springs Black History Tour. No reservation required. 
Fuquay-Varina  
M.A.N.iFEST 
Friday, June 16, 5:30-8:30 p.m., and Monday, June 19, 6 p.m.
This two-day celebration invites the Fuquay-Varina community and surrounding areas to celebrate, highlight, and share in the rich African American presence and culture that is part of this unique and diverse town, while also highlighting the impact of performing arts within the African American community and their influence in the educational and professional areas of Science, Technology, Engineering, and Mathematics (STEM). Events include a middle and high school gameshow, an interactive networking event, and a Juneteenth dramatization at the Fuquay-Varina Arts Center.
Apex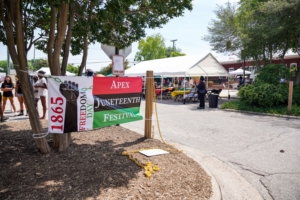 The Apex Juneteenth Celebration will take place from 11 a.m. to 6 p.m. June 17 at The Depot, 220 N. Salem St., Apex. It will feature performances, food trucks, and family-friendly games. 
Cary 

Rhythm & Rhyme: A Celebration of Liberty
Thursday, June 15 
Start your Juneteenth weekend with an evening of Spoken Word & Music, featuring the poetry of Dasan Ahanu, music by Raleigh-Durham's own NiiTO, poet Wild Perfection and songstress Genesis Boggs. Tickets are available at the Cary Box Office. 
Celebrate Freedom | FREE 
Saturday, June 17
The Town of Cary will be holding a Juneteenth celebration at Sertoma Amphitheatre in Bond Park, 11 a.m. to 3 p.m. Performers and speakers include African Dance by The Collective, Griot and Storytelling by Zayd Shakur and Erim Akpan, and many more. Also, for the whole weekend, the columns of the Cary Art Center will be lit in red, yellow, and green in observance of Juneteenth becoming an official Town holiday. 
Raleigh 
Capital City Juneteenth Celebration 
June 14-19 
Juneteenth celebrations in Raleigh begin on Wednesday, June 14, and continue through Monday, June 19. Events include panel discussions, a fish fry, gospel music, free theater performances and movies, family days, and much more. Check out their lineup here!